Sit for a spell and see what we have been
chatting about on my [virtual] front porch...
Pretty Pink Products You Need Pronto
Calling all "pinkaholics"! I mean, the pinker, the better, am I right?! Tomorrow (June 23rd) is National Pink Day, on Wednesday of course, so today I am telling you about all the pink goodies currently in the store with a pink of some NEW products coming soon!
I don't know about you but when I think of red, white and blue the first thing that pops into my head is Firework by Katy Perry and it makes me want to light up the night on the Fourth of July! That is exactly what I am going to help you do. Using the following food guide this Independence Day and you are sure to have the best party on the block!
This Fourth of July I kept things simple and decided on a cocktail party style with simple foods and decorations. You can read more about my Independence Day party food guide here. With that in mind and how unpredictable the weather can be I decided to get a little creative with dessert. I made an indoor s'mores bar that was the talk of the party!
Friend, are you feeling a little overwhelmed with the idea of creating a meat & cheese board for your next party? You might have seen them all over social media but you don't have a clue where to start. I know that feeling! I see some of the charcuterie boards on Instagram and I am wondering two things...
Birthday parties, I feel like we love them or hate them. I am one of those people who loves birthdays! Not only do I love celebrating my own but I also get so much joy out of celebrating other people's birthday. I am going to show you a few ways to style a bar cart when celebrating a birthday. I will include links, tips & a recipe for my "Sunshine Dixie" cocktail!
Kentucky Derby Mini Party
Friend, I will be the first to admit, the only horse race I watch is the Kentucky Derby but I have a feeling you might be that way too? I just wanted you to know, if that is the case, you are in good company here! If you volunteered to host a Kentucky Derby party without knowing the ins and outs don't worry, I've got you covered!
If you say the words, spring & place settings, my heart instantly goes bananas! I know there are some beautiful tablescapes for fall and winter but spring is where my spirit soars. In this blog I want to share the details for three easy place settings for your next spring brunch or dinner party.
Local & Small Business Love
I believe that now more than ever we need to support our local and small business instead of the big box stores. Don't get me wrong, I am a frequent flyer of Target and Amazon but those stores aren't the ones keeping your community going. Over the years I have gotten to know so many small business owners and some have become dear friends of mine! I try to buy from them as much as I can even when it isn't the holidays.
Jingle & Mingle Christmas Party
I think Christmas cocktail parties are my favorite all year long! I might be a little biased though because Christmas is my favorite season to decorate for and that might have a lot to do with my love for Christmas parties. There is just something about this time of year that makes my toes curl and heart flutter just a little more than usual.
For a girl who is all about traditions, I am so not traditional when it comes to seasonal and holiday colors. It may be that I don't like things to be cliche (hello Enn 4)! Instead of traditional orange, red, and brown color tones for fall decorations I decided to keep my love affair with pink, peach and green going and carried it into my fall decorations. To create this more colorful and unique look I grabbed my trusty sidekick, spray paint, and went to town.
Savannah, GA Honeymoon Trip Recap
Ben and I spent three days of our Honeymoon in Savannah, GA and I want to tell you all about what we did, what we loved, and what we learned for next time!Savannah certainly made an impression and once I shifted my mindset I started seeing the real beauty Savannah, GA has to offer.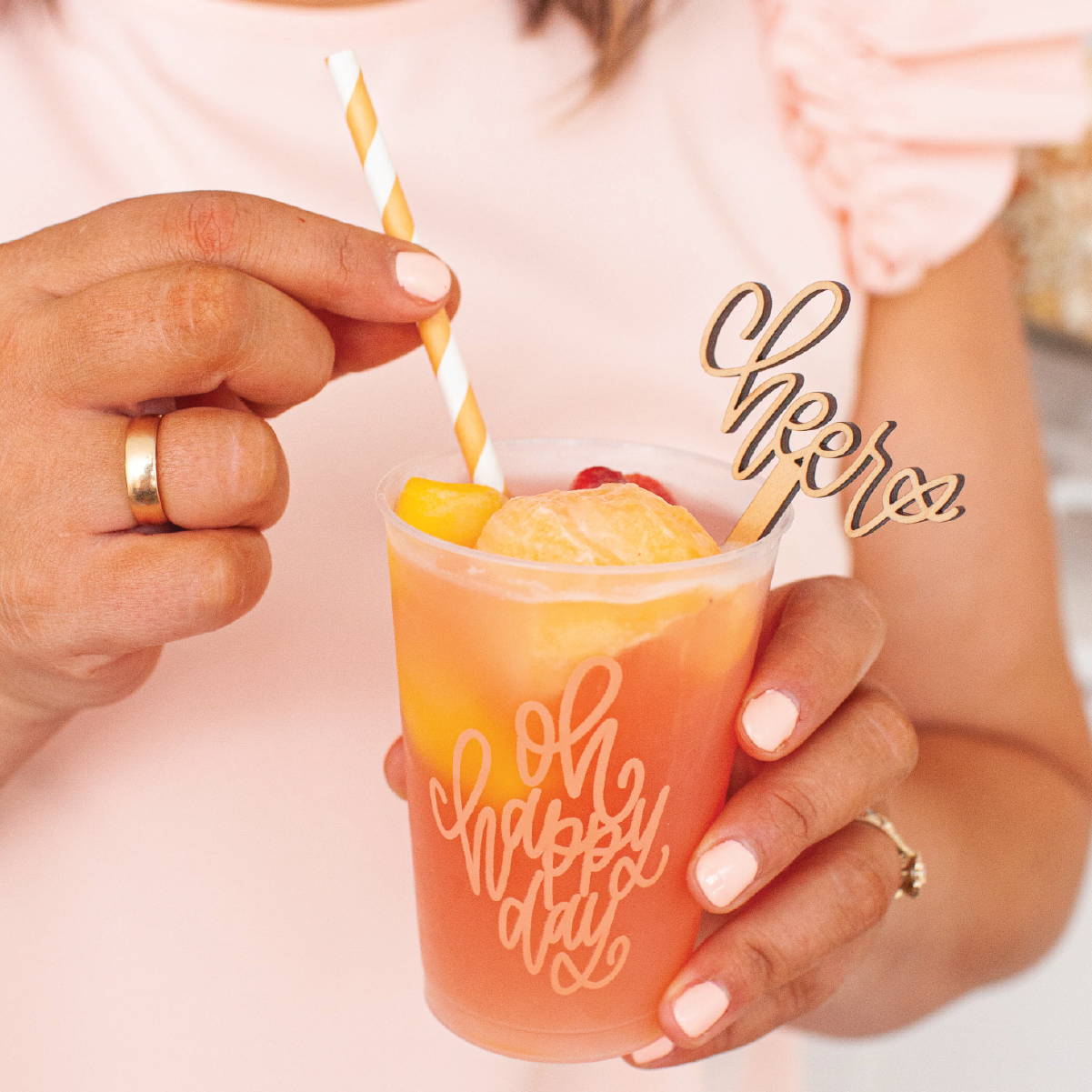 I wanted to do a peach party guide because I feel like so many people love the color but there isn't always a lot of peach colored party decorations, until now! Sometimes I like just the color without the fruit correlation, you know what I mean? The Peach Party Guide will help you through ways to set up a party using Pep & Pop products soyou can show love and hospitality to the sweet people in your life!
As an Enneagram 4, to say I love aesthetics is an understatement. Like most ladies, even before Ben proposed, I had a vision of all the decorations on our wedding day. From the color scheme to the wedding crest I knew what I wanted it to look like. I wont get into all the details but below are a few of my favorite lettered goodies from our wedding day.
If you have spent time around my little corner of the internet you may know our house holds an extra special place in my heart. Not only is it mine and Ben's first home together, it was once my great-grandparents house.
Our house is still a work in progress. Ben jokes that he never knows what new decoration or furniture arrangement he's going to come home to each day. I would love for you to follow along with our house journey on Instagram!