If you say the words, spring & place settings, my heart instantly goes bananas! I know there are some beautiful place settings for fall and winter but spring is where my spirit soars. In this blog I want to share the details for three easy place settings for your next spring brunch or dinner party.
Before we being I want to make sure we are all on the same page. I know often times the words "tablescape" and "place setting" are used inner changeably but they have two different meanings. A place setting is the design of a single place on a table. It is the combination of dishes and flatware for one person so if you have a party of six you will have six place settings. A tablescape on the other hand is how the whole table is laid out. This includes the place settings to the centerpiece and everything in between.
I also want to note there are different levels of place settings from very formal to basic. It all depends on how many courses will be served to know how many dishes and the number of flatware to put at each seat.
In our house we usually set up the food in the kitchen or on the dinning room buffet and let everyone serve themselves. There is nothing wrong with a formal meal to be served but we enjoy more casual and family style event. All to say, we very rarely have a very formal meal so 99.9% of my place settings will be for a basic meal.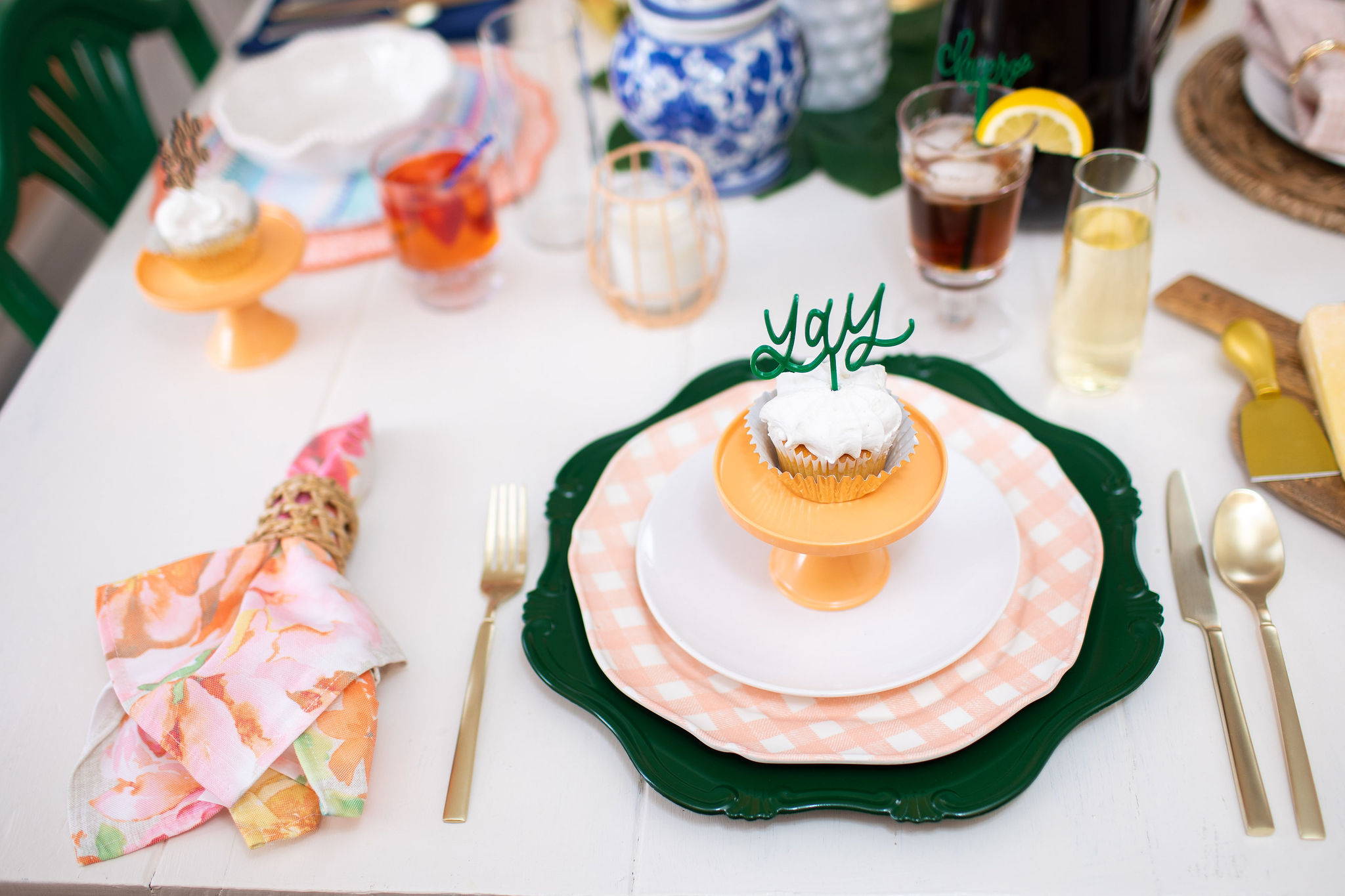 Gingham Plate - Target | Spring 2019
Flatware - Target | Project 62
Cupcake Topper - Pep & Pop | Shop Here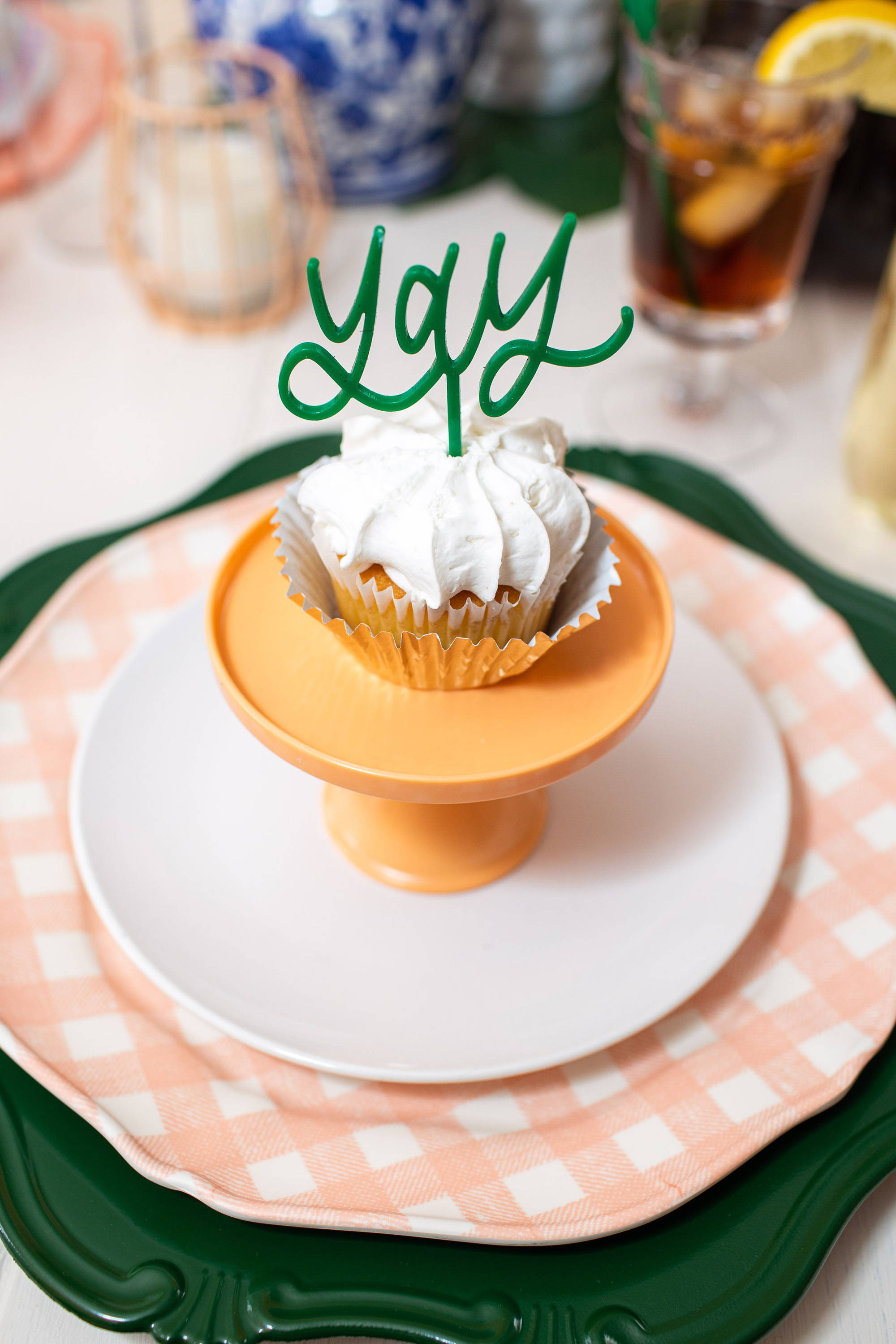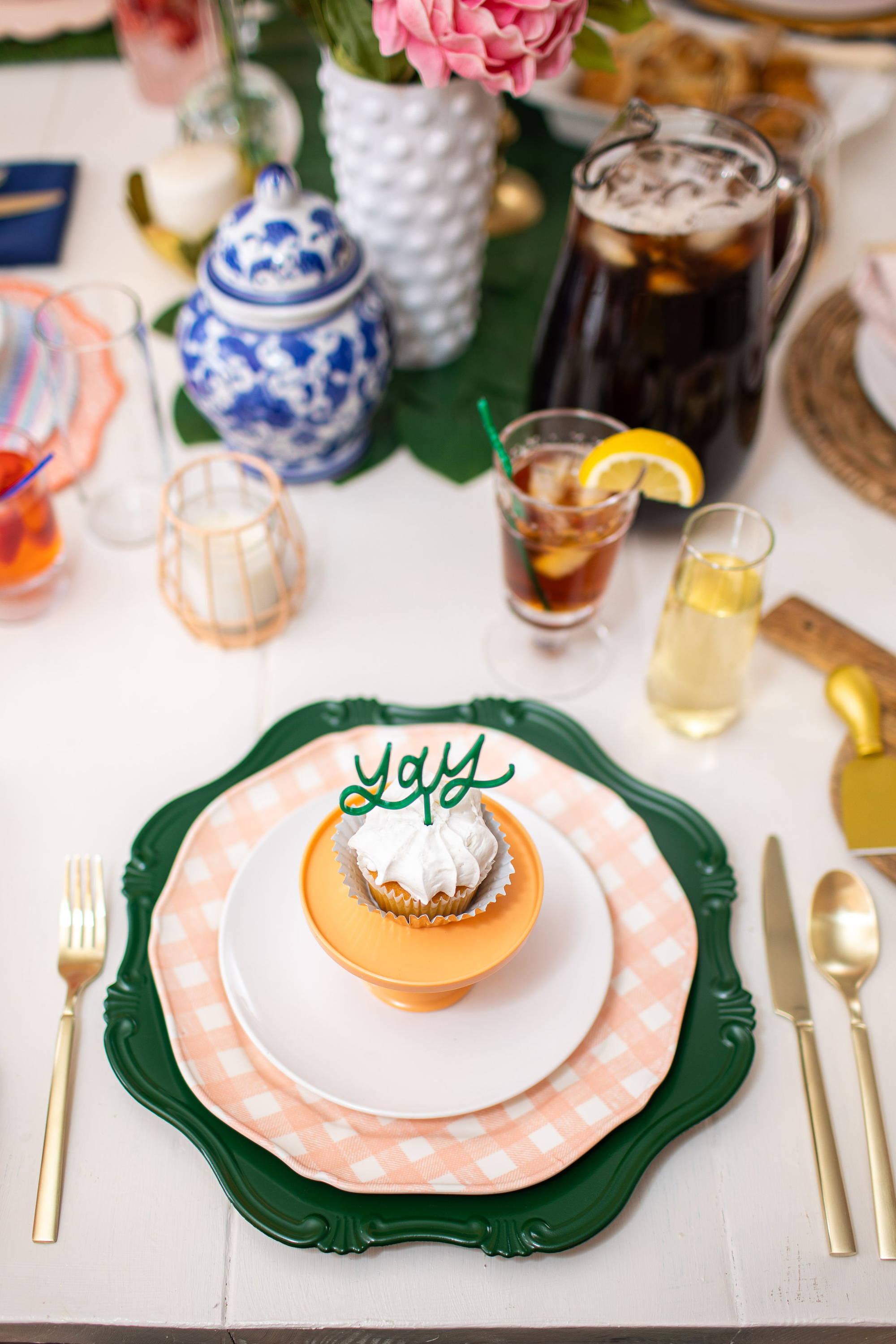 This first place setting brings in three of my go to elements, something peach, something green and gingham. I got these melamine plates at Target in the spring of 2019 and they are a staple for most of my tablescapes. If you see them I highly recommend buying a set; a bonus is they are very durable.
I love the look of this place setting because it has a lot of layers to show depth and details. The shape and details of the green charger complimented but didn't take away from the shape and pattern of the gingham plate. I added the top white plate to give the eye some contrast before it reached the pedestal (also from Target) with the cupcake. I decided to go with a green cupcake topper to tie in the green charger on the bottom. This setup could go with about any color scheme and a variety of meal or party types.
Having your dessert already at each seat has two benefits. One, you do not have to stress with the dessert display and two, it adds details and color to the table without adding more dishes or candles, which is always a bonus. You can display the cupcake on a pedestal in the center of the dish, as pictured above or you can set it to the side near the drinks or above the flatware as pictured below.
If you want coordinating cupcake toppers too, find them in the shop by clicking here. I also have "Mr & Mrs" toppers if you are looking for a cute detail on an engagement party meal, rehearsal dinner, or bridal shower!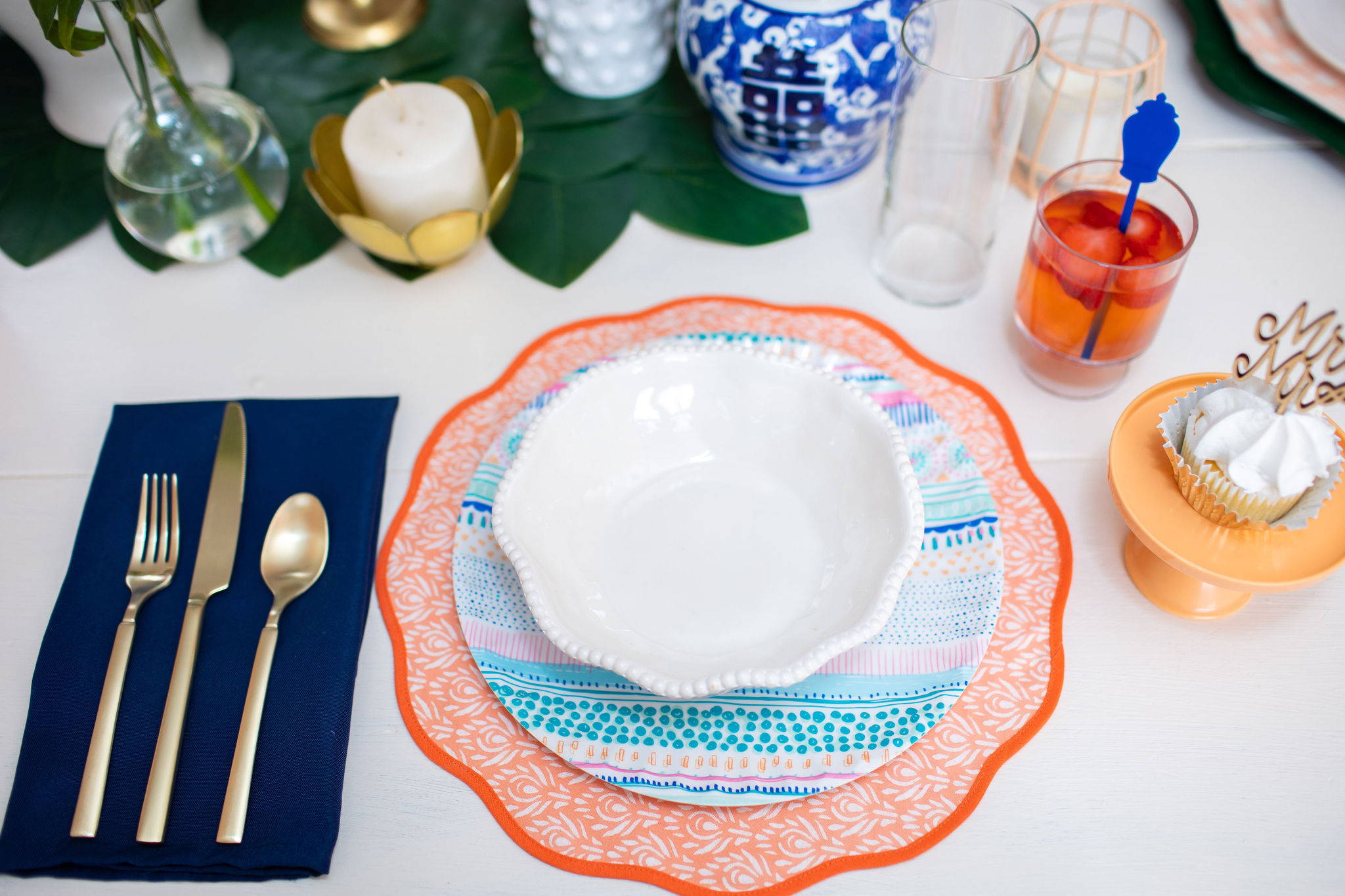 Placemat - Amanda Lindroth
Flatware - Target | Project 62
Ginger Jar Drink Sirrer - Pep & Pop | Shop Here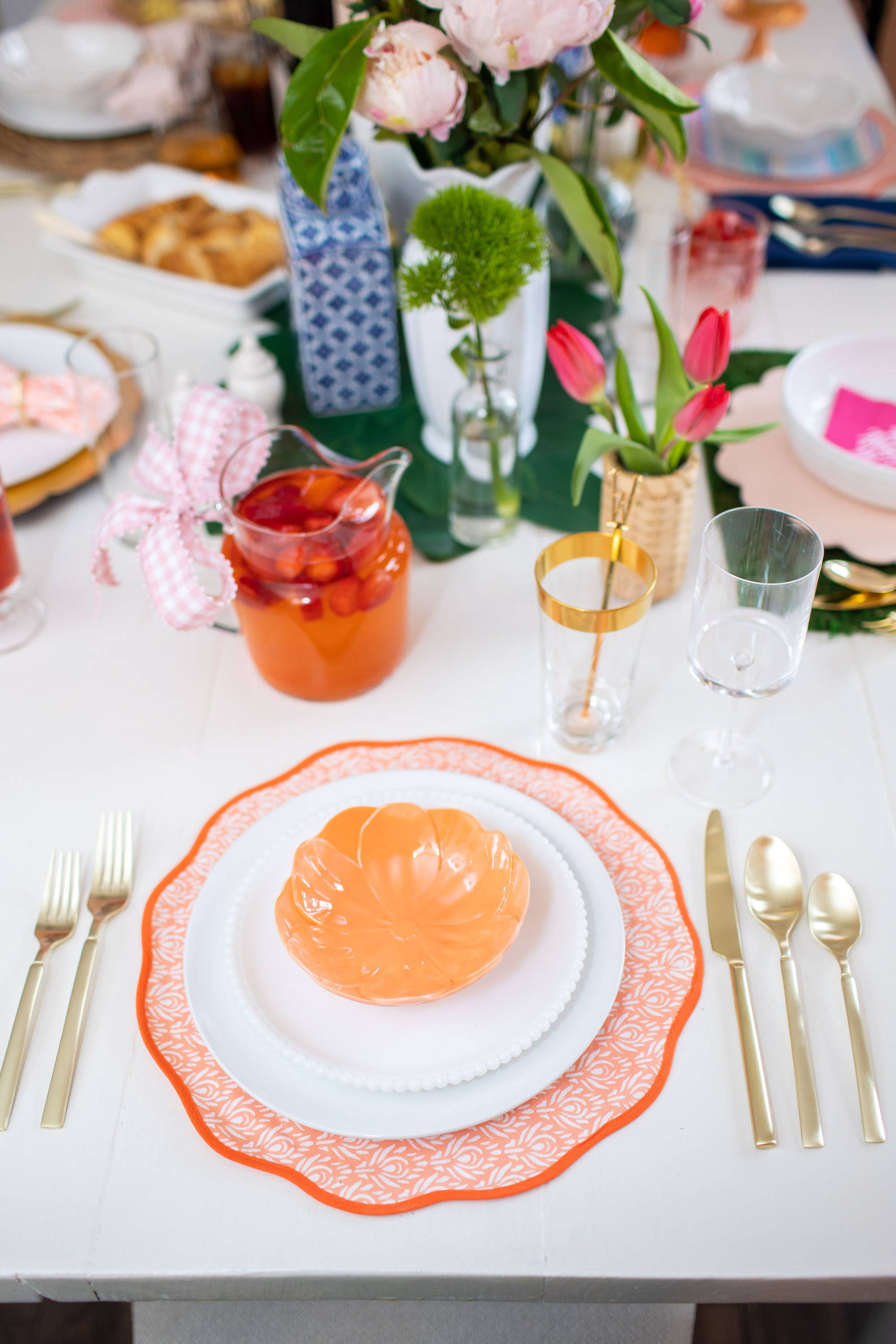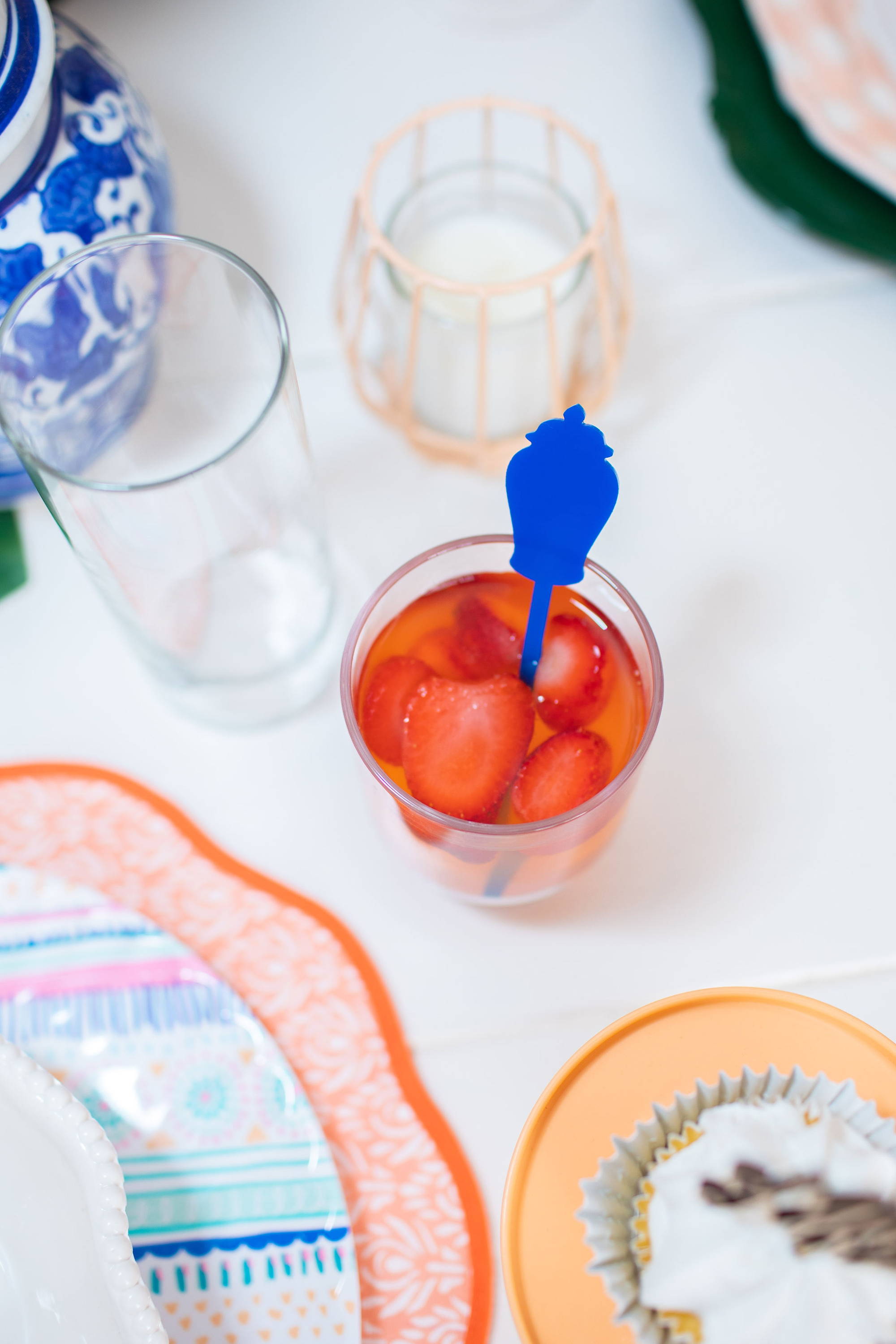 The last trip Ben and I took to Charleston, SC (aka my favorite place in the world) we came across Amanda Lindroth's shop on King Street and oh my stars it was Heaven on Earth! As soon as we walked in I turned to Ben and told him if he ever wanted to know what the inside of my head looked like, it was this store. Needless to say I wanted it all, but as soon as I saw these adorable placemats I grabbed them up and started mentally planning all the ways they could be used!
I found the patterned plates at Home Goods a few years ago but I thought the color scheme and differing patterns worked well together. I also tried it on a monochromatic set up where I used the placemat with white plates and a matching bowl. I think either way looks great it will all depend on the asthetic you are trying to achieve for the party or meal.
When I am creating place settings or tablescapes the bigger and bolder the patterns and colors are the more in love with them I get. I don't know what it is about small pieces making a big statement that brings me joy. Also, to me the more layers and depth the better! If you wanted to recreate this place setting with different materials I recommend finding a plate with a bold and colorful pattern then work from there. I typically find fun pieces at Home Goods or TJMaxx especially during the summer when they have their patio items on display.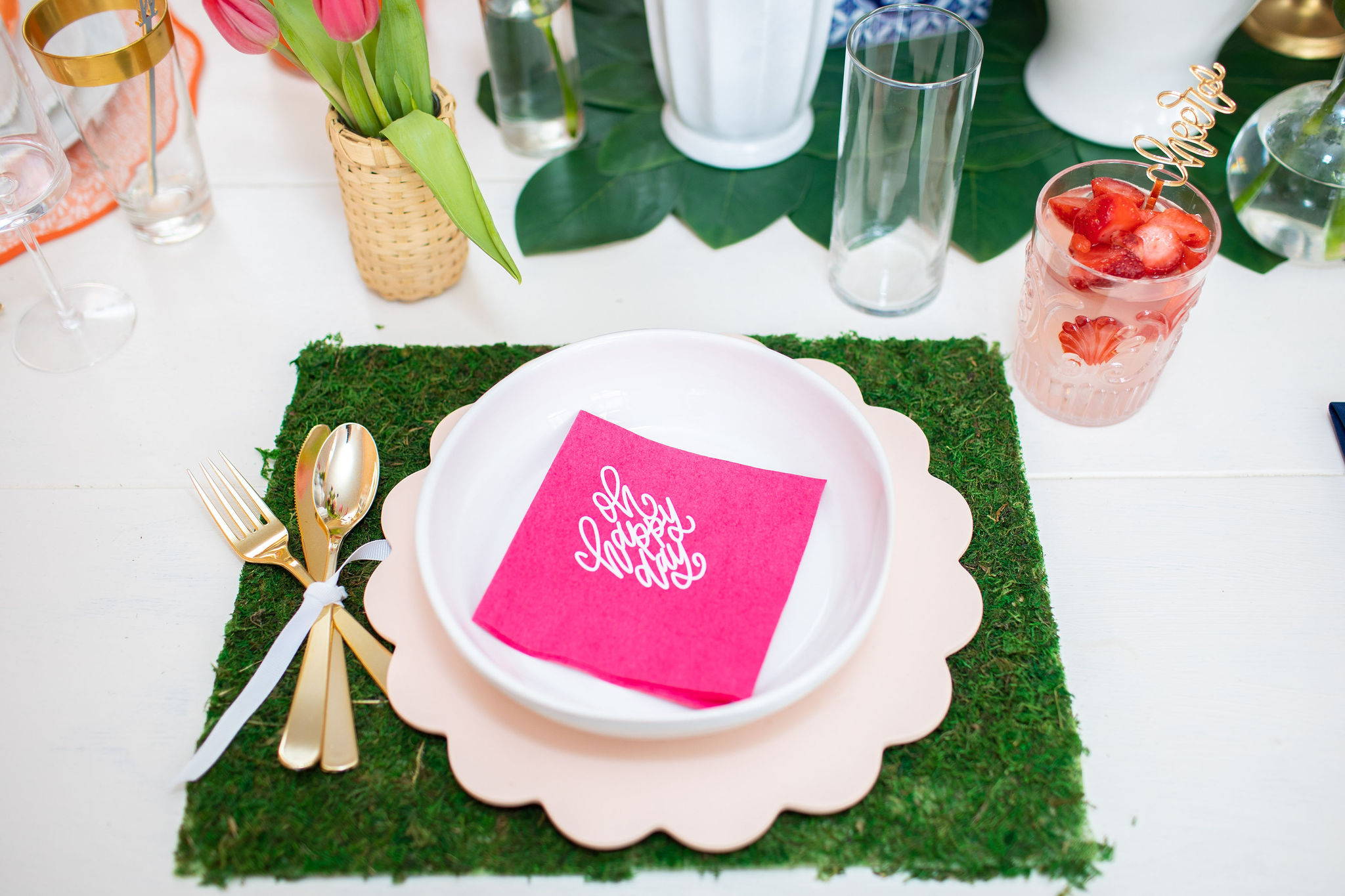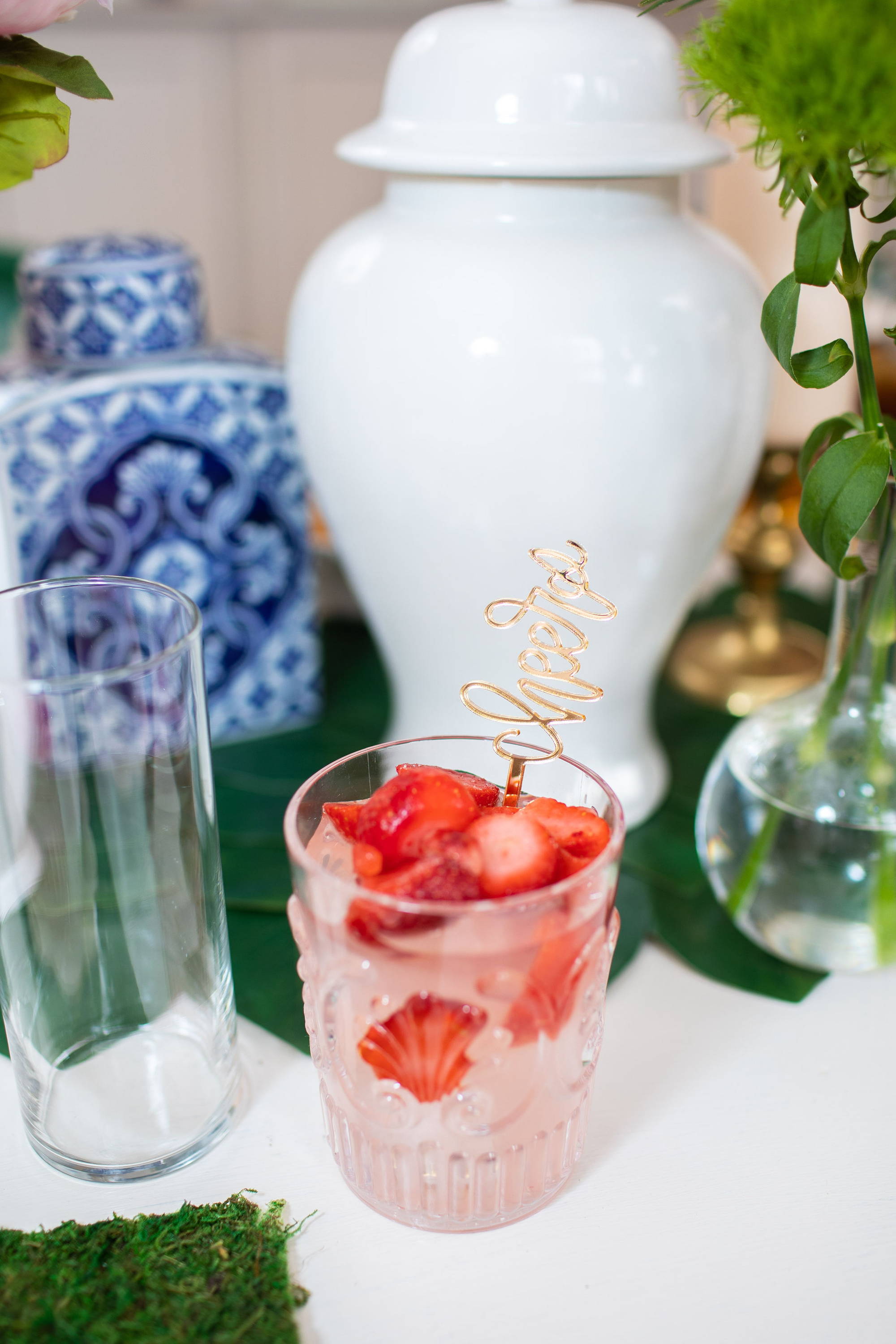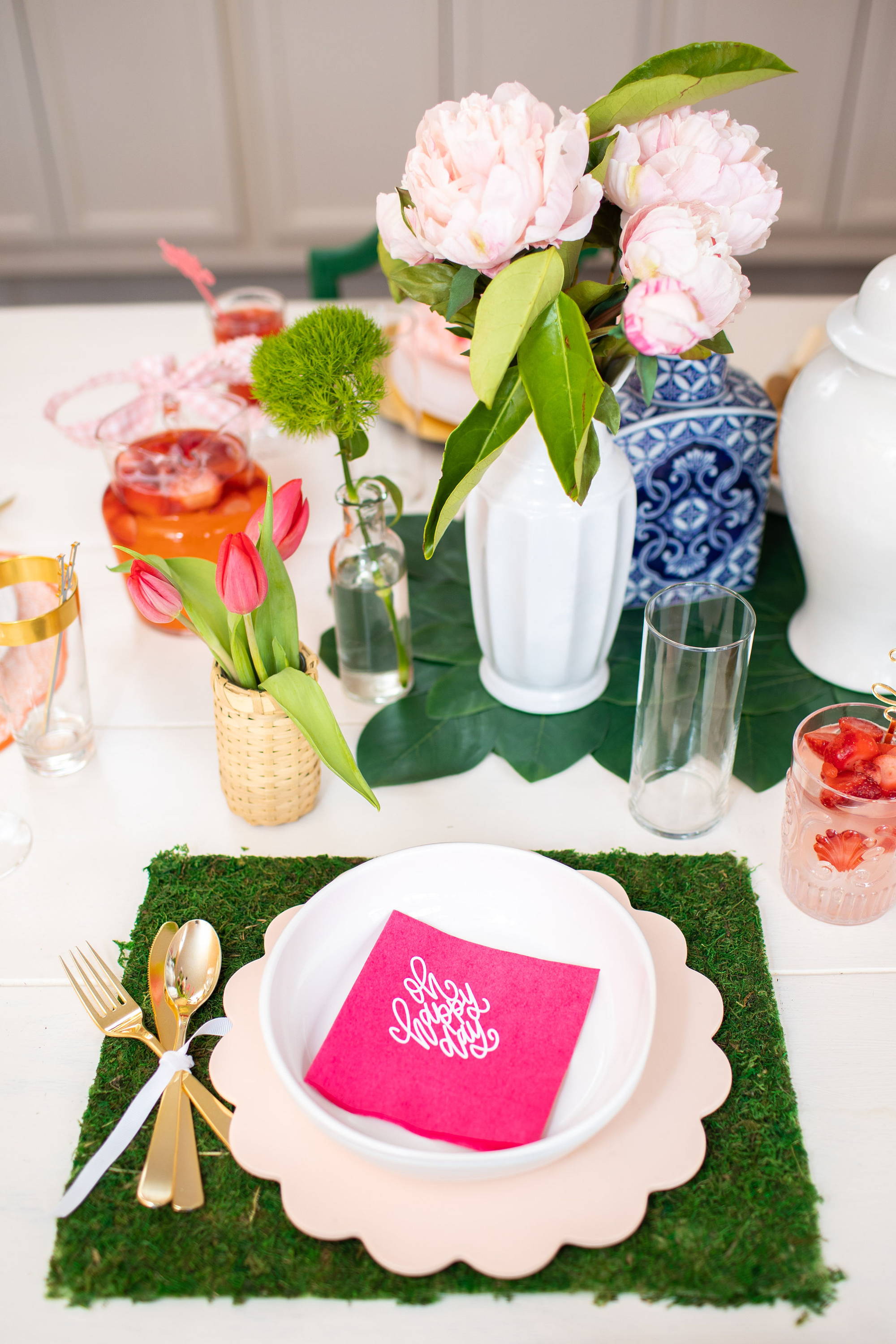 Okay, last but not least is this place setting that could be used for Mother's Day brunch or a girls garden party. I have actually used these moss placemats for a brunch set up and they just scream fresh and spring on the table!
To recreate this place setting you will need a roll of moss found on Amazon, gold disposable flatware and cute Pep & Pop napkins! This is something that is super simple and is actually a simple clean up too with the single use flatware and napkin. Single use might not be as elegant but sometimes it is perfect for you as a host because that means you can join your guests after the meal that much faster with less cleanup. Another good thing about a simple place setting like this is that it doesn't have to be for a full meal. You could do a buffet of finger foods on a small plate or bowl and have everyone sit around the table to enjoy verses standing or gathering in a sitting area.
As you can probably gather by now, my favorite items to use when creating place settings are things I already have. I have been collecting plates, chargers, napkins, bowls, you name it, for years now and I love having a go to stock of items to use when creating a tablescape for parties or dinners. If I am feeling creative I will even set the table for just Ben and I at dinner.
If you don't have storage for all the party goods or don't want to invest a ton you could start with some basics then grow as you decide what works best for you. I recommend starting with a set of white dishes, clear glass cups, and timeless flatware. I always get a more modern gold set of flatware but I am also bias to gold everything. From there I would find a few napkins you could mix and match with a tablecloth then add chargers.
As you find and add pieces to your collection you will know what style you are going for and what design elements you want to stay away from. For instance, I rarely ever have a neutral or pastel tablescape because those colors don't bring me joy so I will typically pass up a set of neutral napkins for a set with a fun pattern or color way. Don't be afraid to try something new and experiment!
My biggest pieces of advice I would give you when it comes to creating place settings and tablescapes is to grab versatile and coordinating pieces along the way. When you are out shopping and you see a plate or napkin and your mind immediately thinks of three different ways to set the table with it, then buy it because you know you will use it!
If you are interested in recreating some of the place settings in the blog then shop the Pep & Pop goodies I used below!