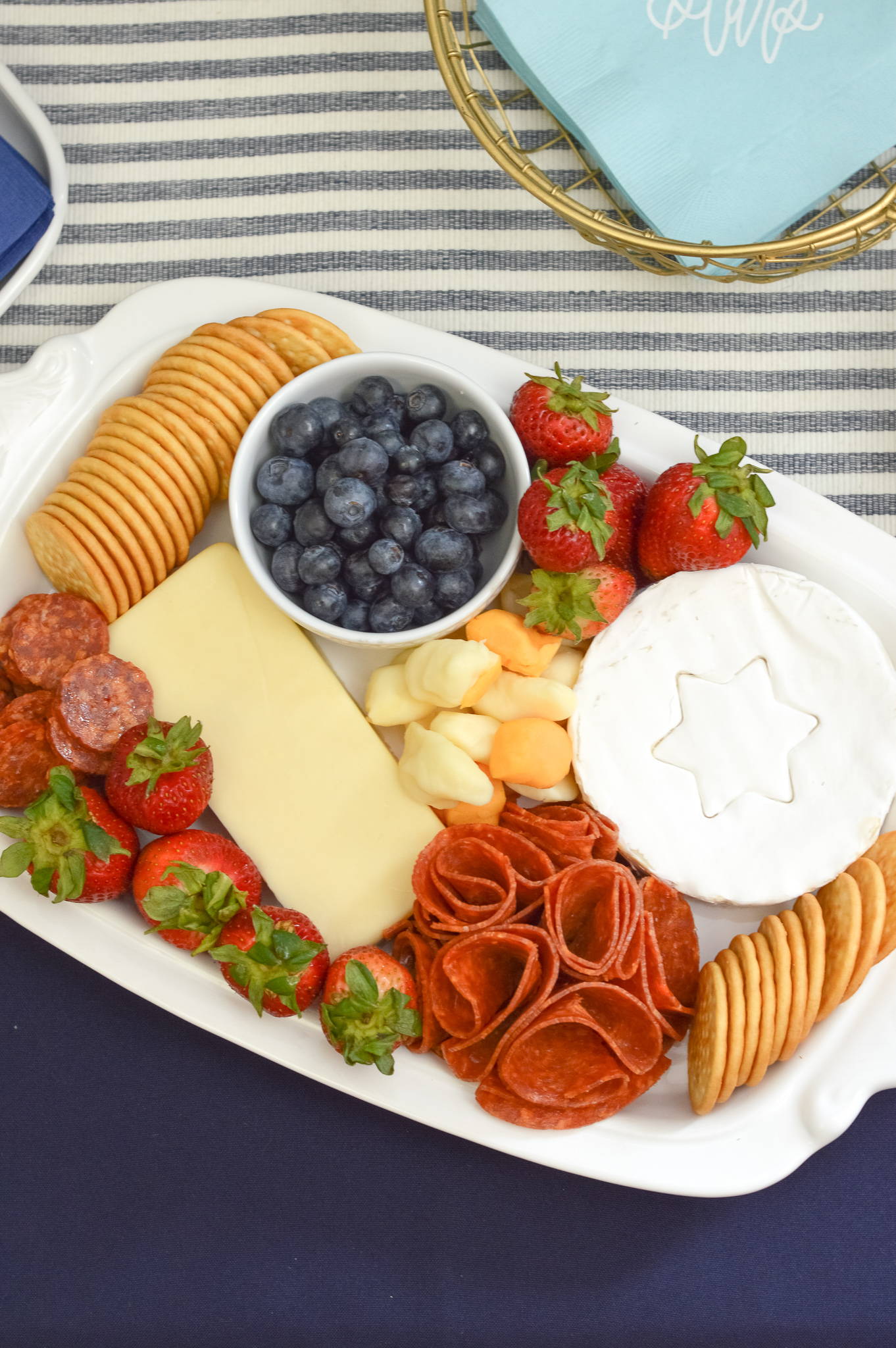 Friend, are you feeling a little overwhelmed with the idea of creating a meat & cheese board for your next party? You might have seen them all over social media but you don't have a clue where to start. I know that feeling! I see some of the charcuterie boards on Instagram and I am wondering two things 1) how long that take to assemble and 2) will it even taste good? Don't get me wrong, I have full confidence these people know what they are doing but for me, I like to keep things super simple and I am guessing you do too!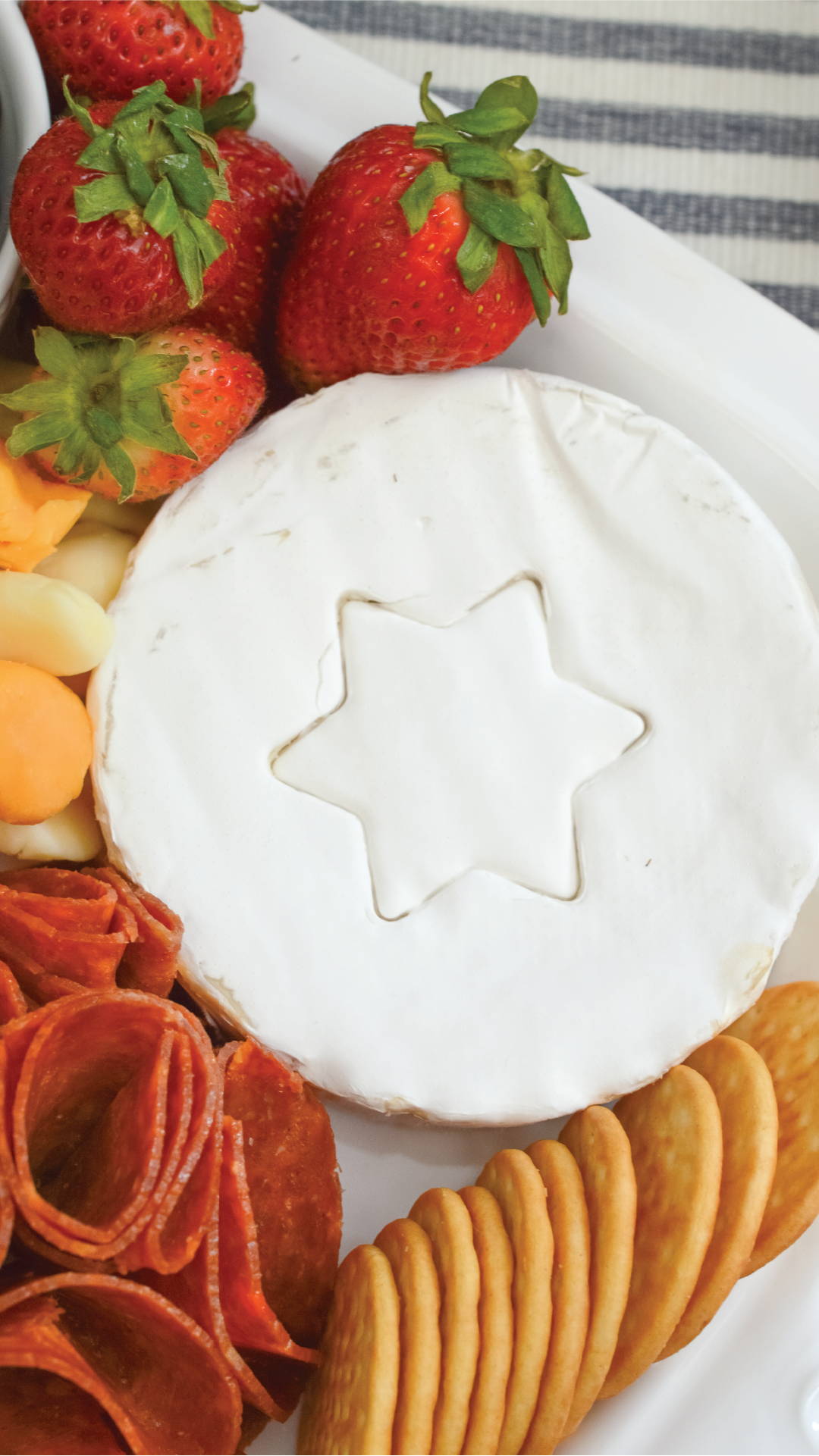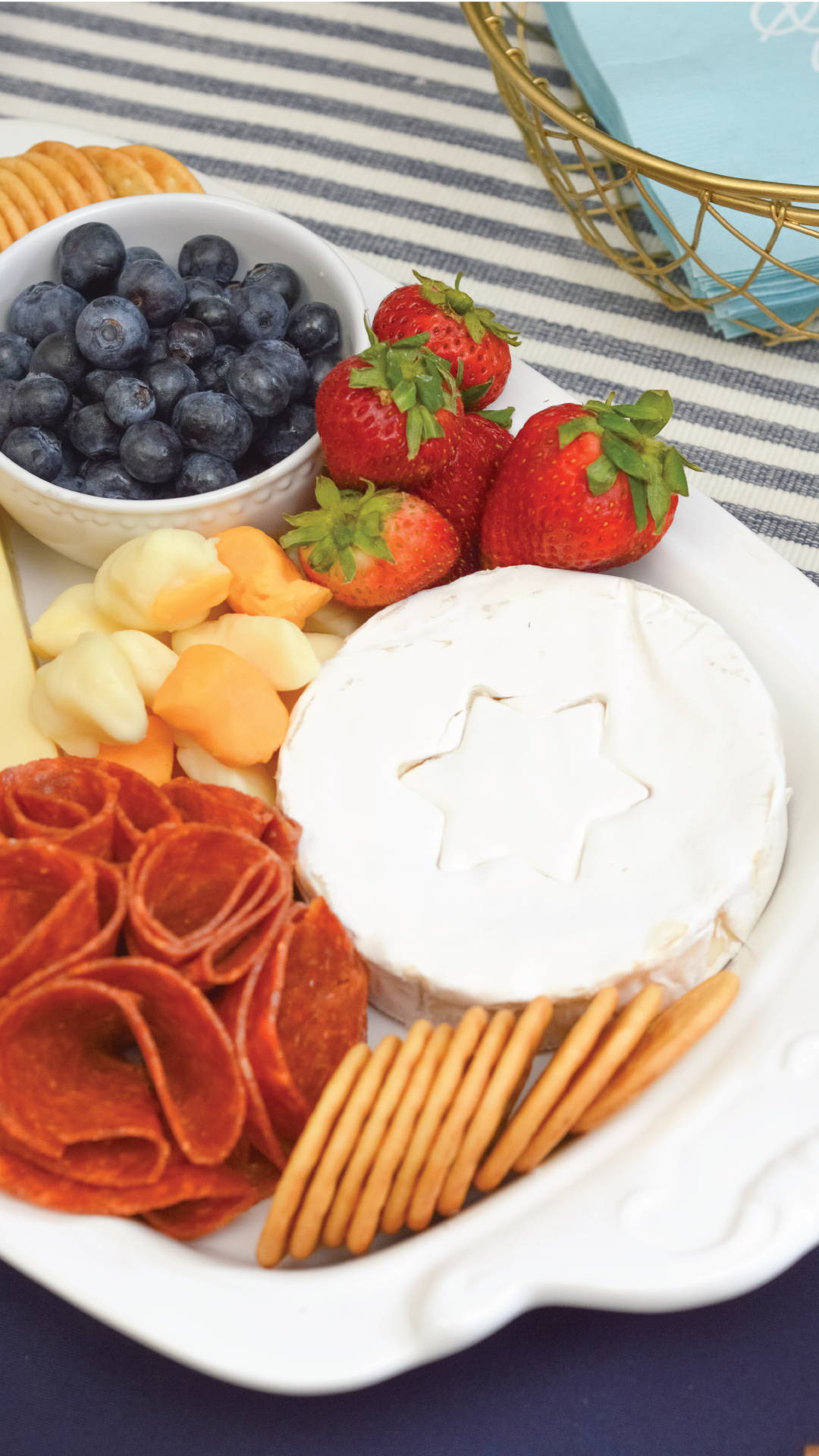 In this blog I am going to walk you through step by step on creating a patriotic meat & cheese board that is sure to wow your guests! First you want to start with your dish. I know a lot of people create charcuterie boards on a cutting board but I prefer a white dish with a ledge. Even if the edge is short, it helps me have a boundary and something to lean food against.
When you are picking out your dish or board, think through how many people you are serving, what foods will also be present, and how many different items you want to include. Like I said before, I typically keep mine simple with 2-3 cheeses, 2-3 meats, 1-2 cracker types, and 2-3 fruit options. This is not a one size fits all system but a guideline to get you started so head to the store and gather your food, then we will move to the next step.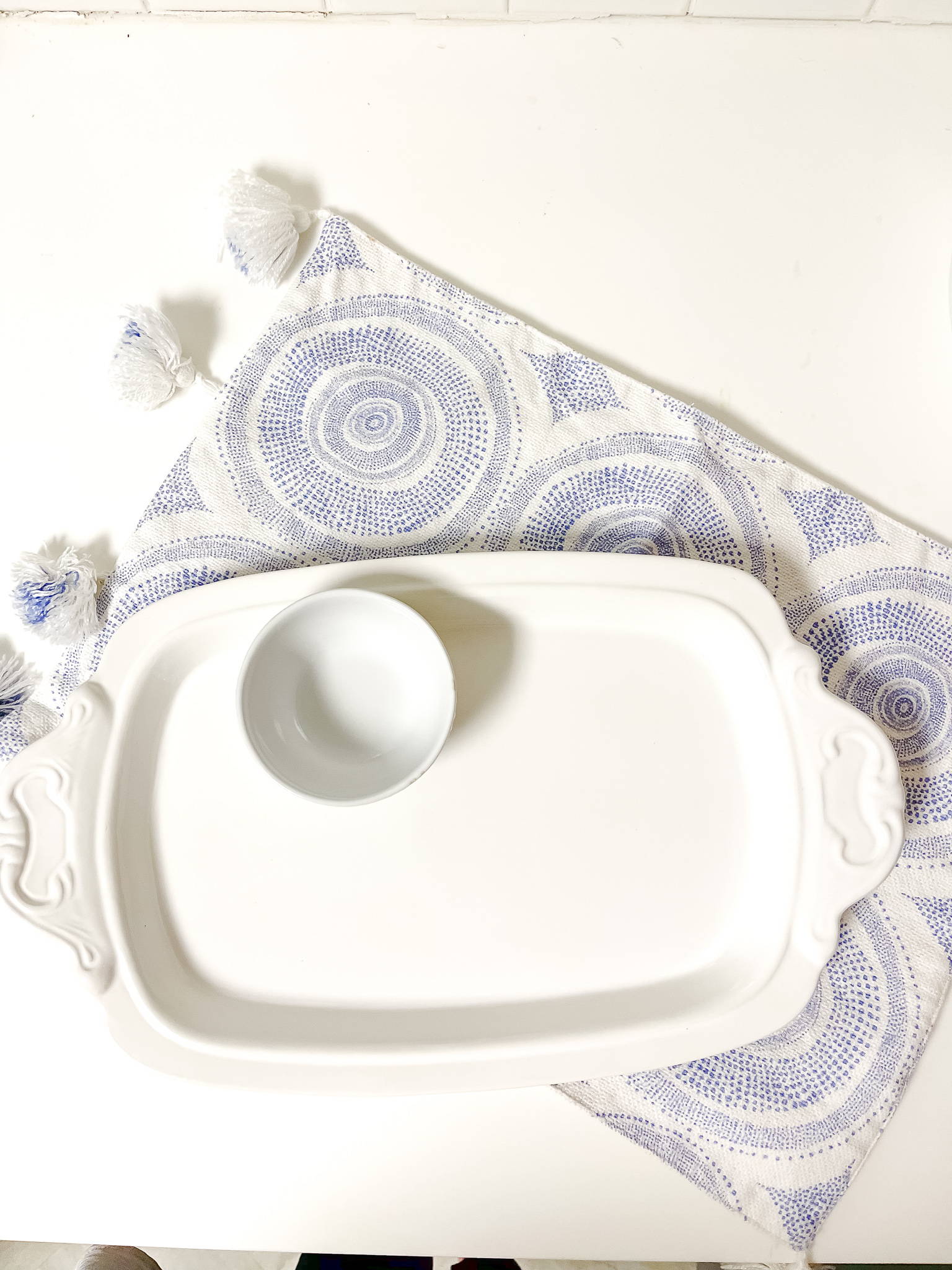 Now that you have gathered all your supplies, let's get a feel for the land. Should any of your items go in a bowl? These might be small berries, olives, nuts, or candies. If so, get enough bowls and lay them on the board where you think they would work best. My only small items are blueberries so I only needed one bowl.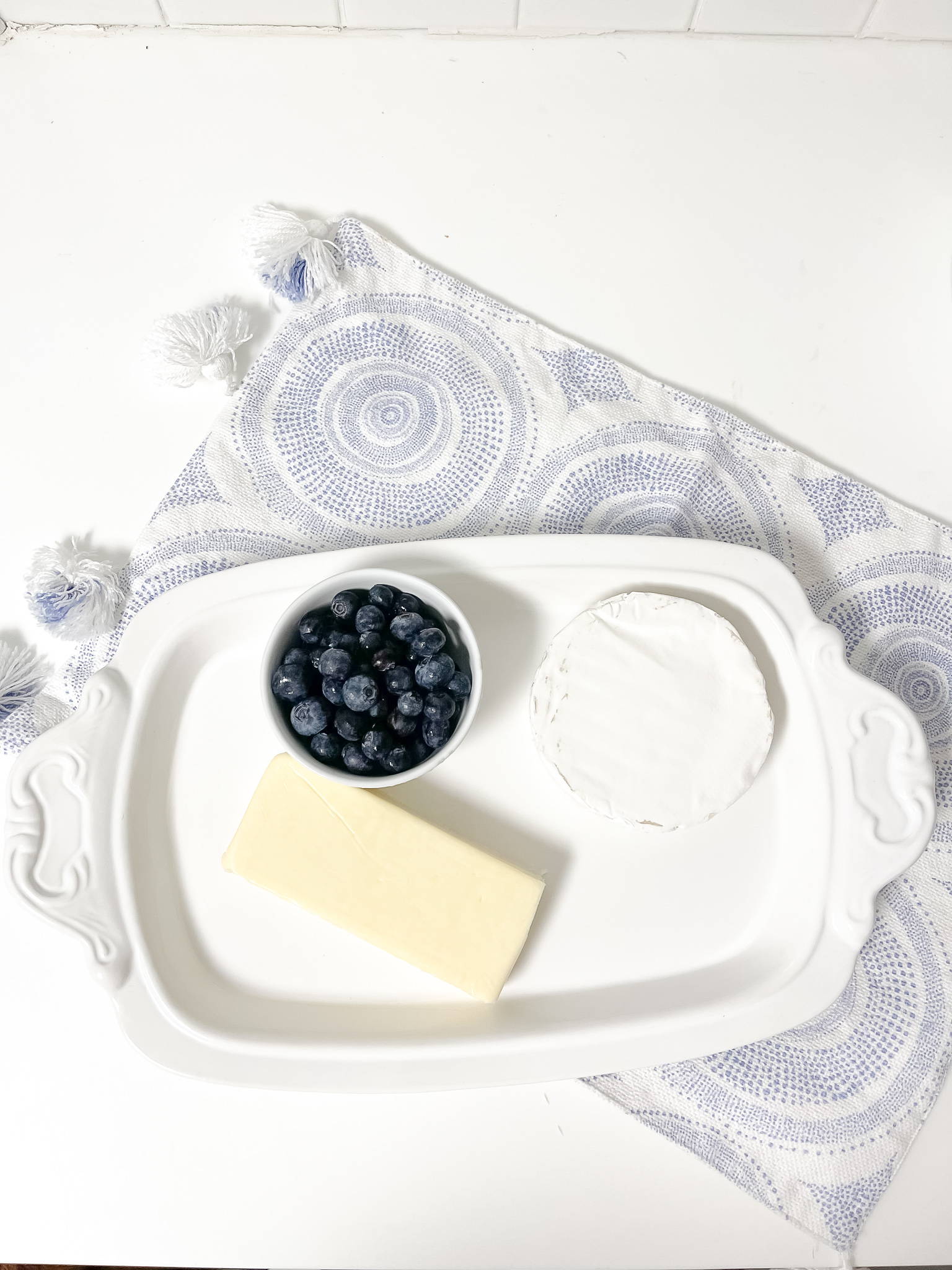 From there you are going to lay out any large cheese wedges. I like to start with my bigger items first, this will keep you from having to squeeze them in at the end. When you are laying out the wedges I recommend creating paths or spaces with the cheese and bowls. For example, see above, the blueberry bowl is right at the edge of the dish then the cheese wedge is touching the bowl on one corner and touching the other edge with the opposite corner? It creates a space on the left for one or multiple items that won't bleed into the items to the right of the wedge.
This is honestly my favorite step of the whole process because I think this is where you get to be the most creative. Don't be afraid to play around with the cheese wedges and bowls. Mix it up a bit! If you noticed while researching charcuterie boards you will know that no two are the same and each one is cute.
The next step; meats. Does anyone else think "we have tha meats" like the Arby's commercials? You too? Okay good! This is my husbands favorite part of any charcuterie board. He is not a big cheese fan but will eat all the meats if he is allowed.
With arranging the wedges and bowls being my first favorite step, getting creative with meat would have to be my second favorite. I decided to add some flair to the board by taking the pepperoni and creating a rose. You might have seen the popular TikTok wine glass rose, that is always a good option too, especially for beginners. To create this rose I took one of the large pepperonis, folded it in half then rolled it into thirds. It should look like a bugle once it is ready. From there I arrange a few in a circle then build it taller which forms the rose look at the top.
Since there was such a statement with the pepperoni rose or "pepper-rose" (what I like to call them) I decided to keep the other meat simple and just arrange it in the corner. At this point I also added crackers along the edge and cheese curds in the middle. See how we are starting with the large items then working toward the smaller ones?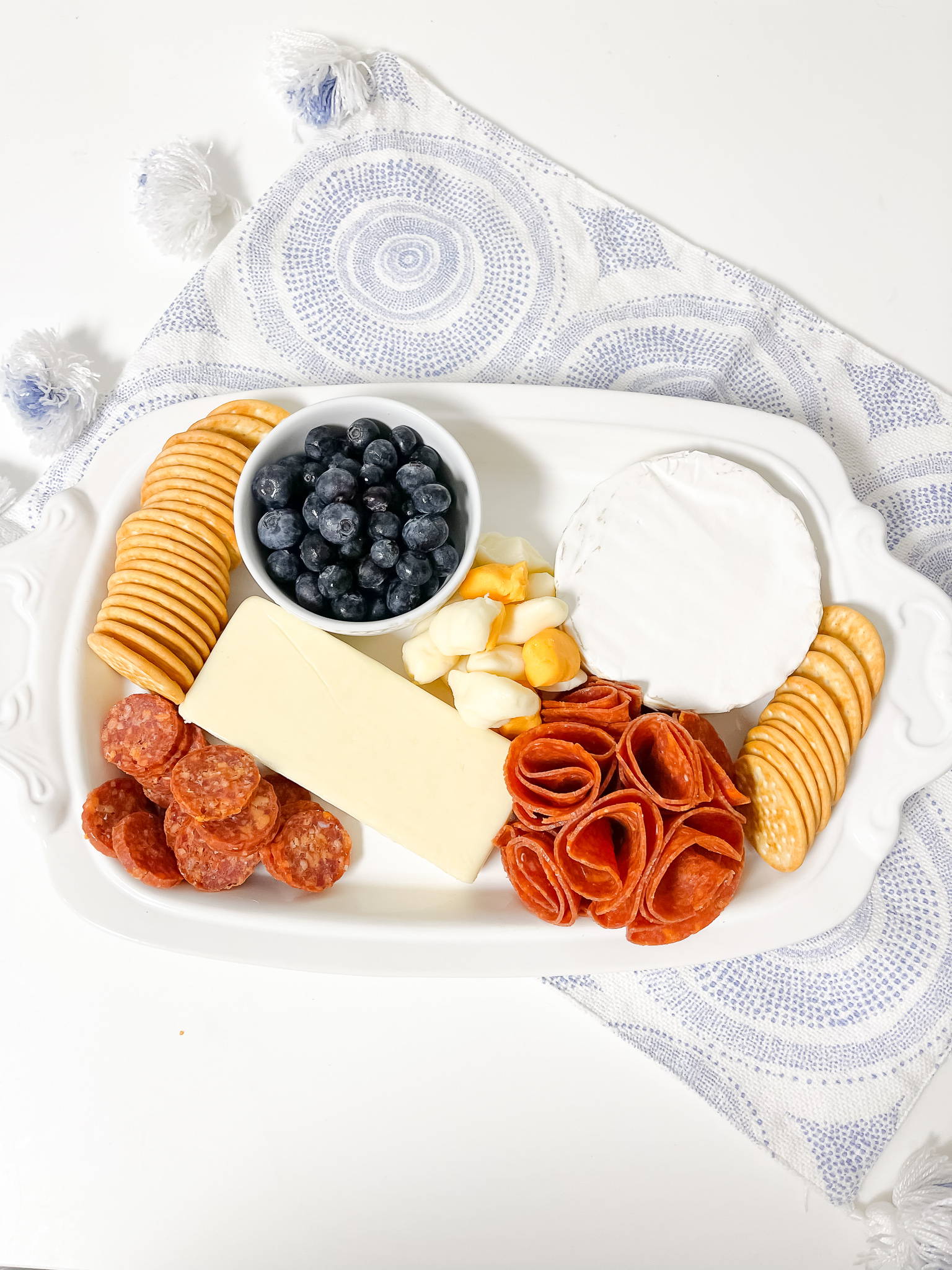 The last step for creating this Patriotic Meat & Cheese is adding the fruit. To keep with the red, white, and blue theme I chose strawberries. I simply added them into the open spaces and around the edges. You can always dice one and add it on top of the Brie or any cheese wedge.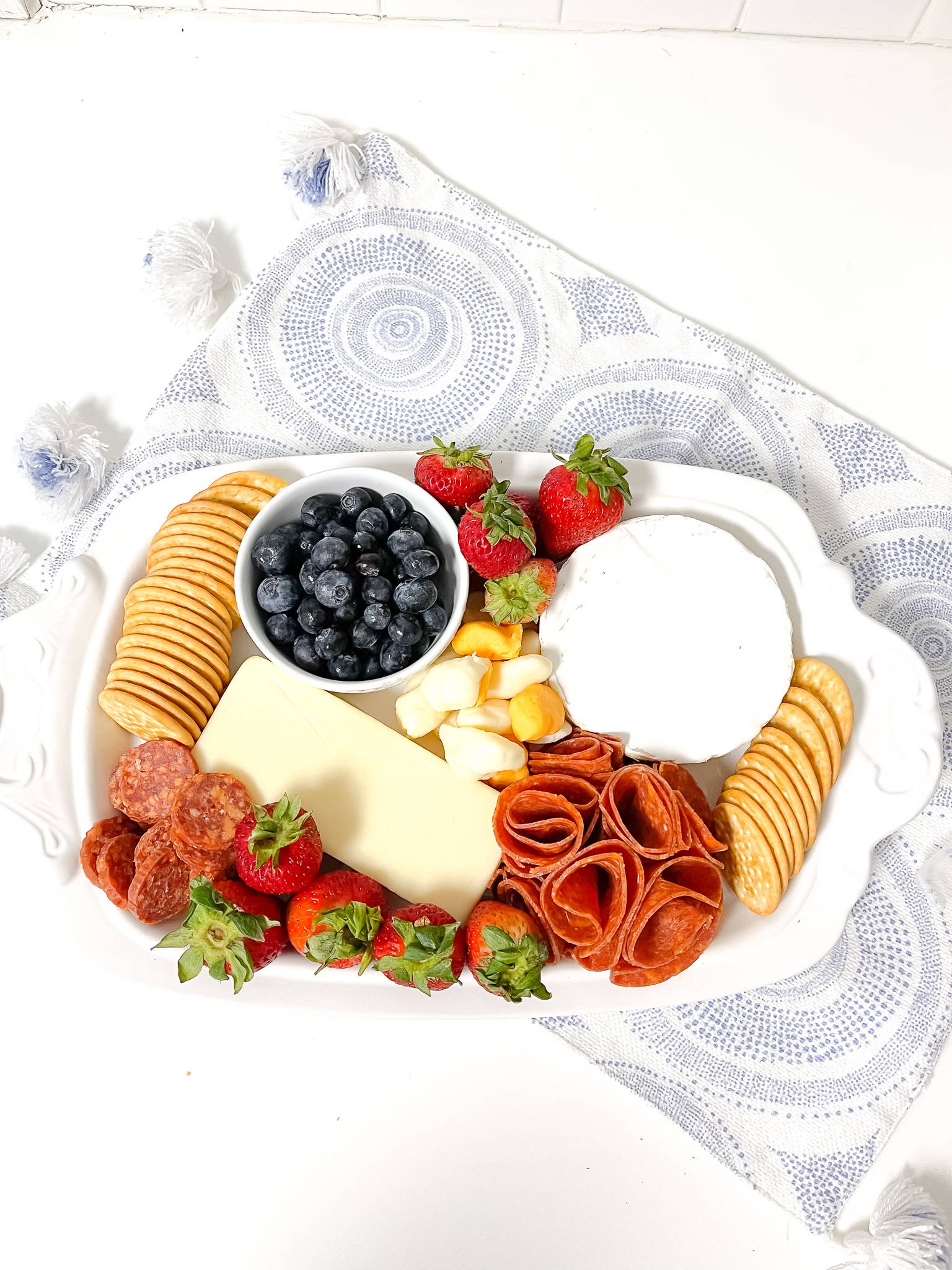 I hope this step by step tutorial for a Patriotic Meat & Cheese Board has helped grow your confidence to create one of your own! Remember, no two are the same and they are all unique in some way. Also, even if you think the first go round looks like a fail, if you pick meats and cheeses you enjoy, you know for a fact it will taste good and sometimes, that's all that matters! I can't wait to see how you bring joy with your meat and cheese board! If you followed this tutorial, tag @pepnpop on Instagram so I can cheer you on!