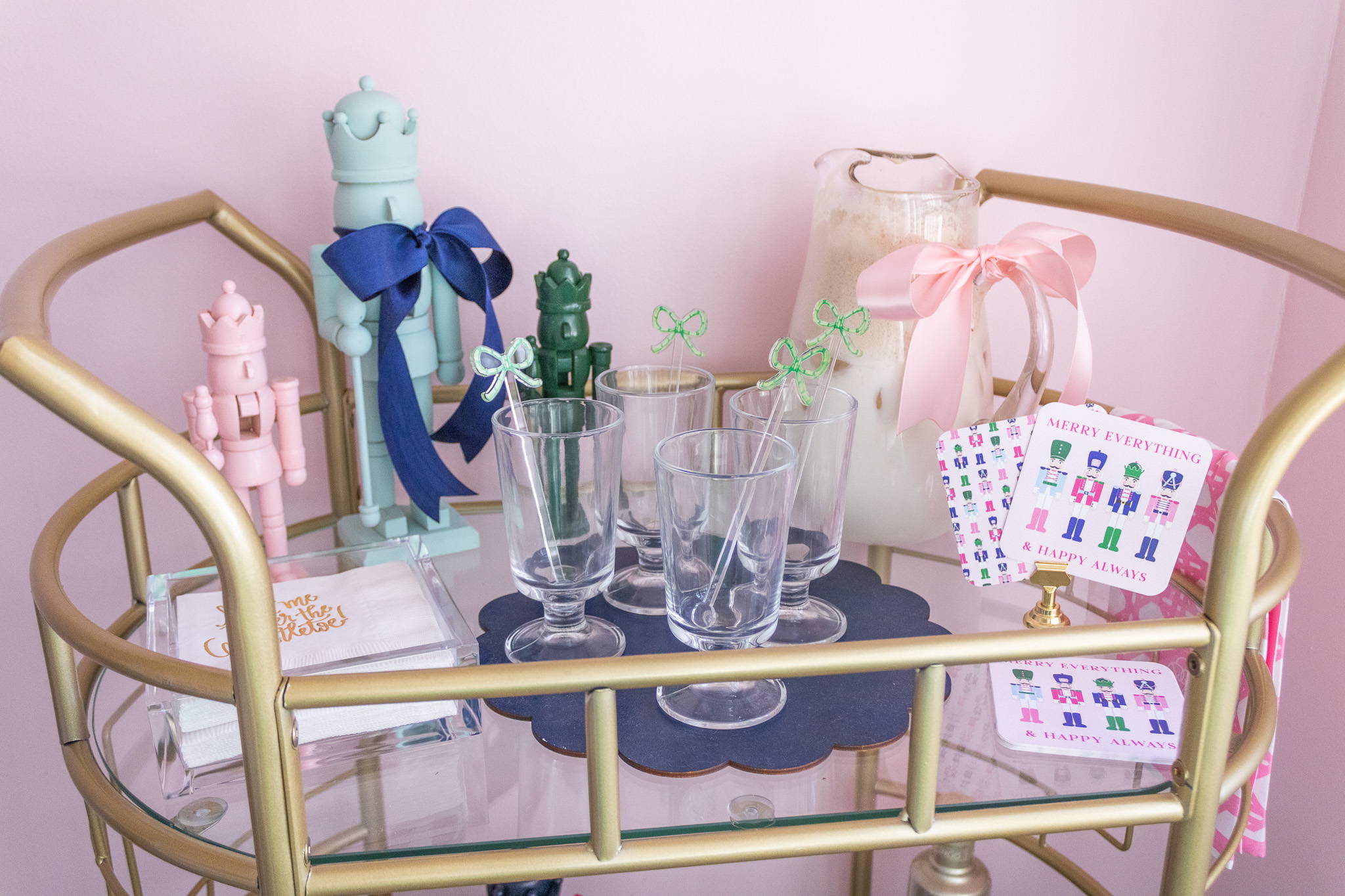 Friend, I don't know about you but around our home at the holidays it's like the hosting headquarters for all the fun things! I am not complaining at all because I LOVE hosting. Having people over to our home, creating treats and drinks, sharing stories and laughs, and making memories that will last a lifetime.
One thing I love to do around the holidays is keep a bar cart ready and stocked with napkins, paper coasters, drink stirrers and cups. For this bar cart I made it nutcracker themed to coordinate with the cutie nutcracker paper coasters. I don't want you to confuse this theme with the Nutcracker Ballet, for this cart I only used wooden nutcrackers from Hobby Lobby painted solid colors.
If you are looking for a place to start on decorating your bar cart start by deciding what drinks will be served from it; wine, individual cocktails, batched holiday punch or something else. This will allow you to set aside the right amount of space for functionality and be able to use what is left for decorations. Not sure how to decorate or what route to go, I recommend starting from something and pulling icons, colors and patters to go from there. This "something" could be a Christmas hand towel, festive drink stirrer, pretty paper coasters, or cocktail napkins.
* Links to all the goodies are at the end of the post *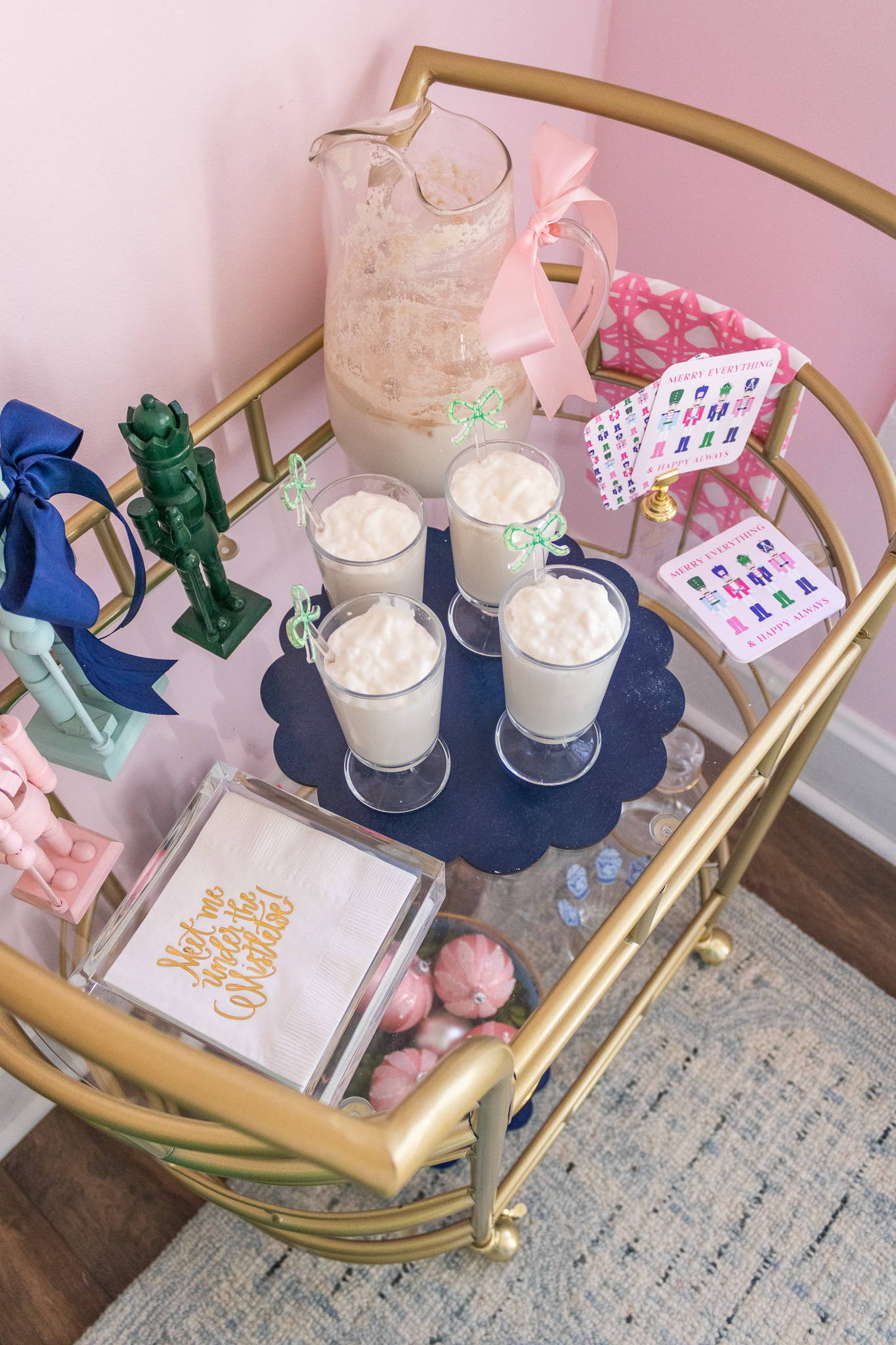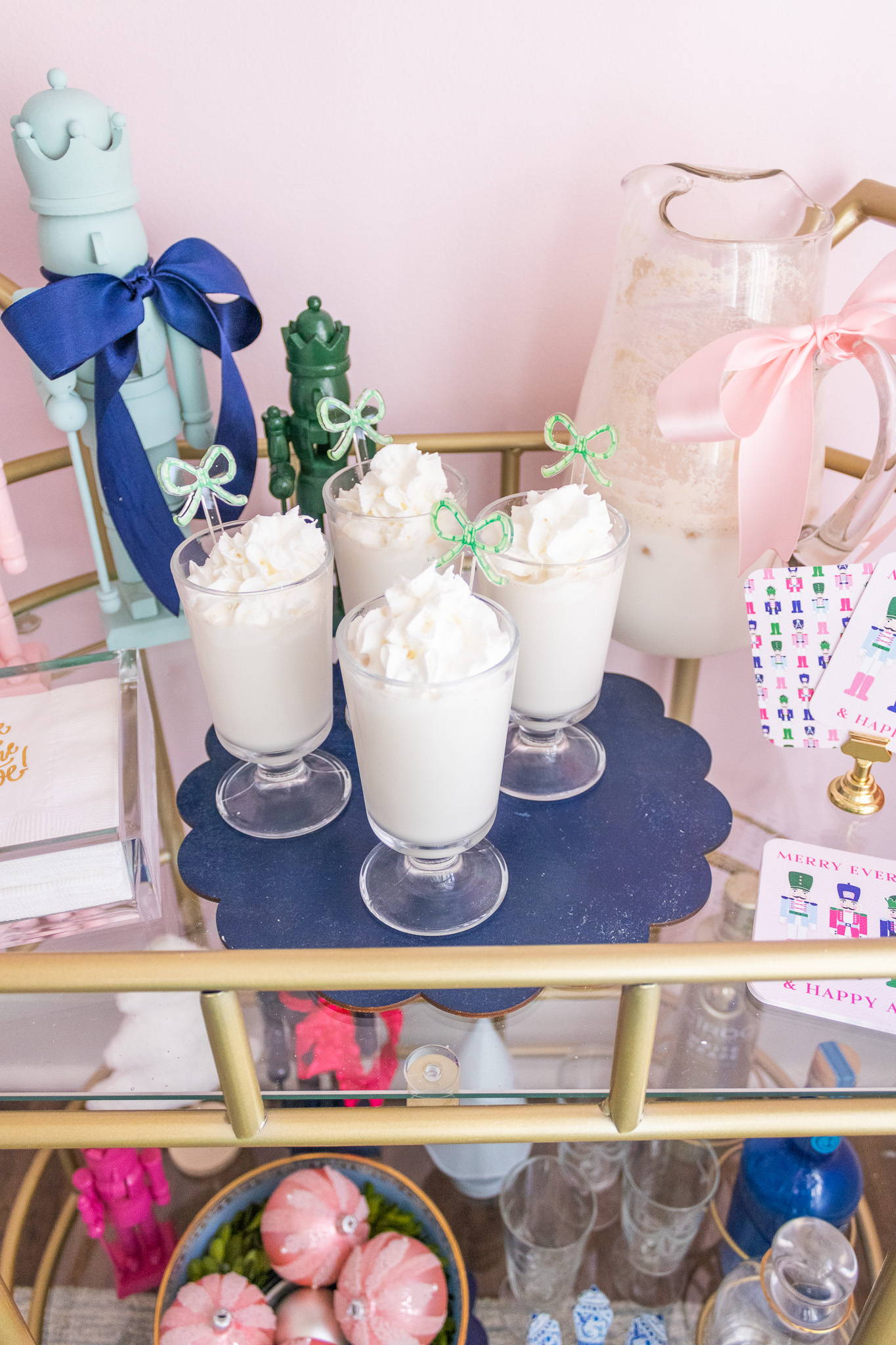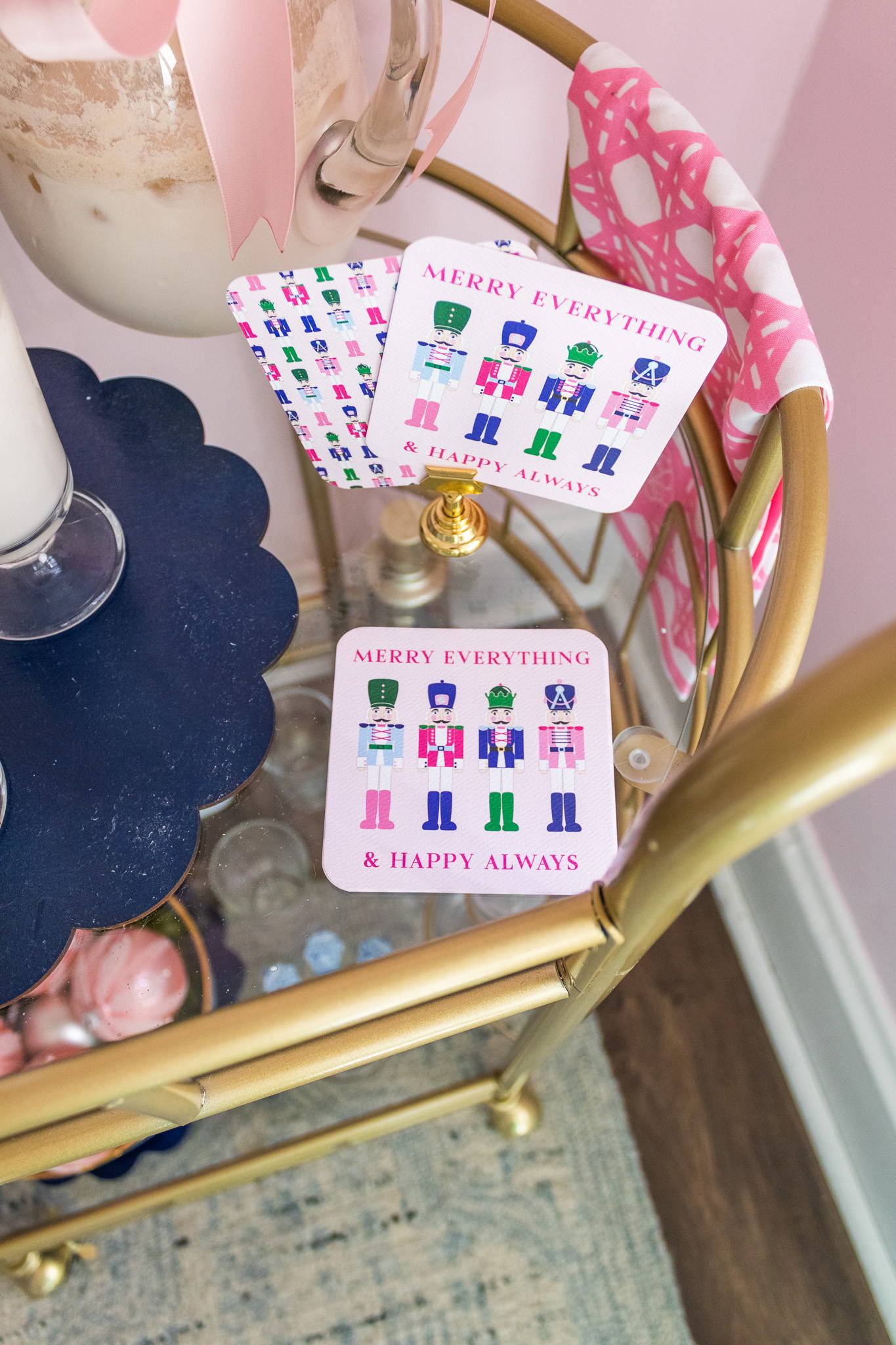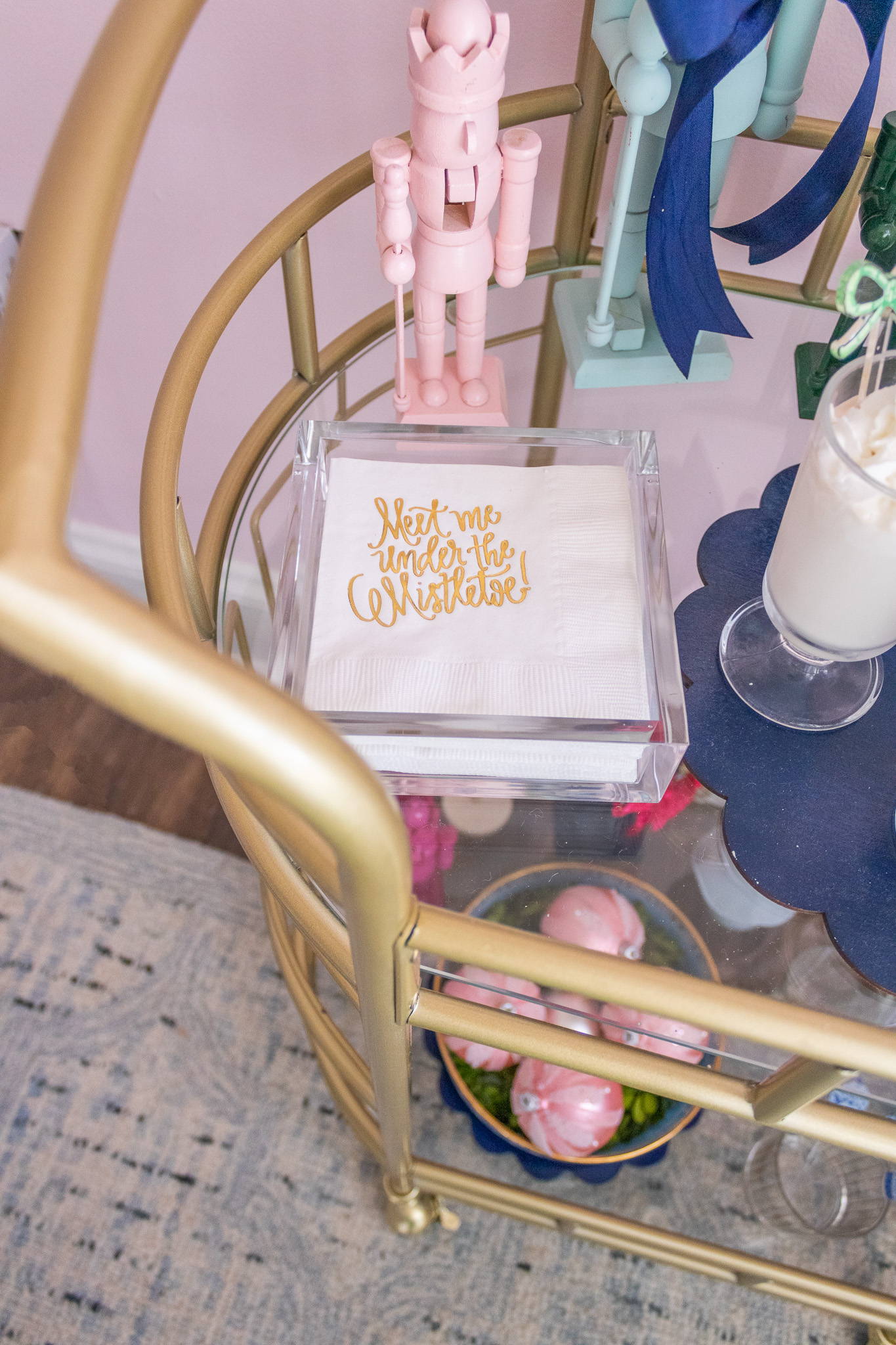 We are so excited to be expecting our first baby in the Spring, so this Christmas I am rocking the mocktails instead of the cocktails. I will admit it's not quite the same as the good stuff but I have been able to find a few festive drinks that the whole party can enjoy!
The drink shown above is a Candy Cane Christmas Mocktail and you can find the recipe here. I altered it a little to make it in a pitcher for a batched drink instead of individuals. Also I added whipped cream to the top because why not!
Since most of the drinks served this holiday season will be batched or in punch form the bottom doesn't have to be as functional with extra supplies so I used the bottom of the bar cart for decorations. I mixed some nutcrackers with a bowl of pink ornaments in a vintage Wedgewood style bowl. Mainly my goal was to bring all of that fun color to the bottom so it is fun and festive throughout.