Birthday parties, I feel like we love them or hate them. I am one of those people who love birthdays! Not only do I love celebrating my own (and usually drag it out for a few weeks) but I also get so much joy out of celebrating other people's birthday. I always strive to make them feel like the star of the show and that the world revolves around them for the day (or week). I am going to show you a few ways to style a bar cart when celebrating a birthday. I will include links, tips & a recipe for my "Sunshine Dixie" cocktail.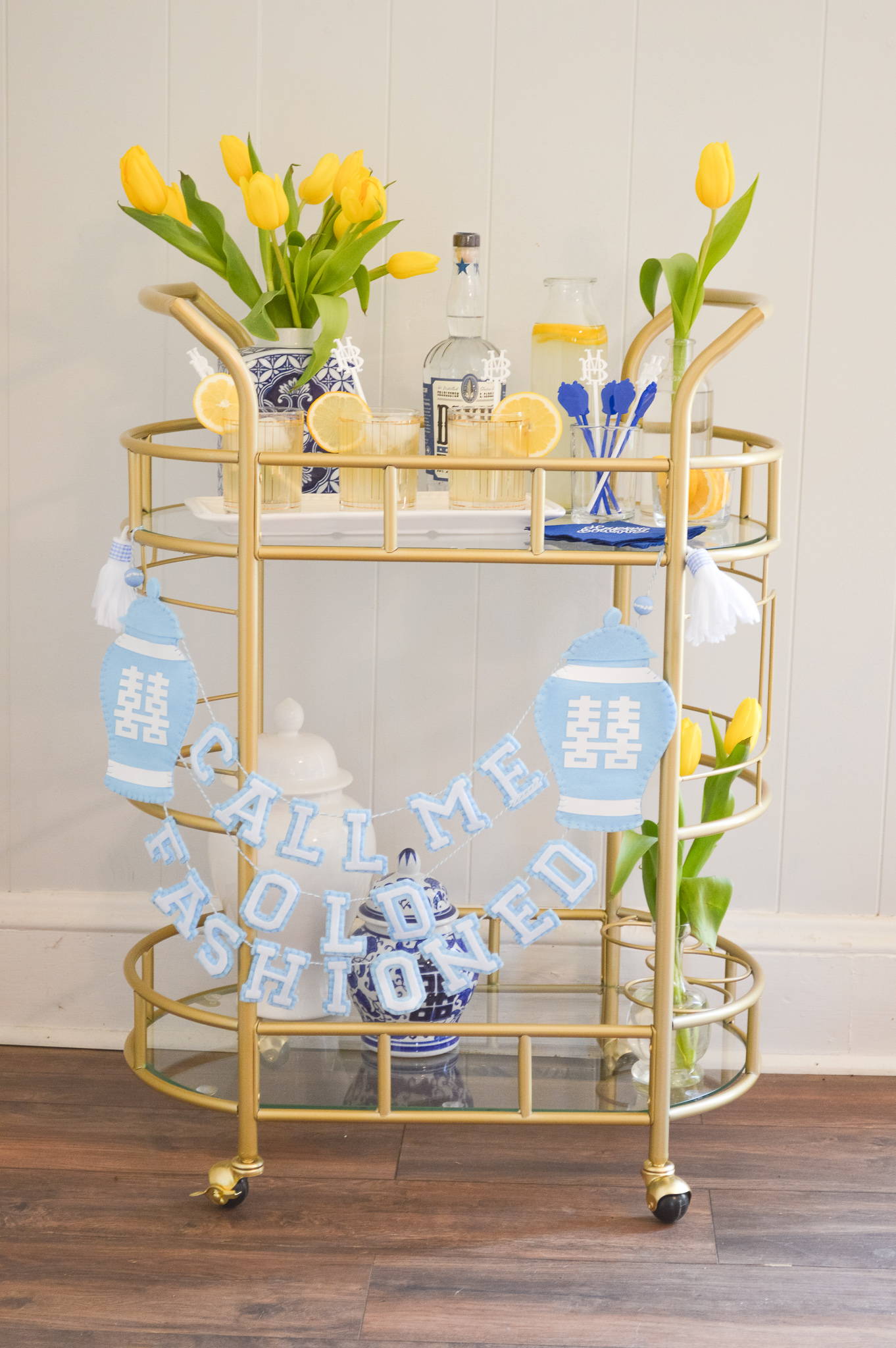 Before I begin telling you all the details can we just stop for a moment and talk about how adorable this bar cart banner is?! It was created by Alexandra Small of Lemon House Design and the attention to detail is unreal! I found Alexandra on Instagram when searching for fellow chinoserie lovers and I have been hooked since. She makes so many felt banners as well as ornaments all by hand, which blows my mind because, the thoughts of sewing something that small stresses me out. If you do not follow her already, you should! You can find a link to her IG account here. If you want a banner just like mine, shop her website by clicking the link here.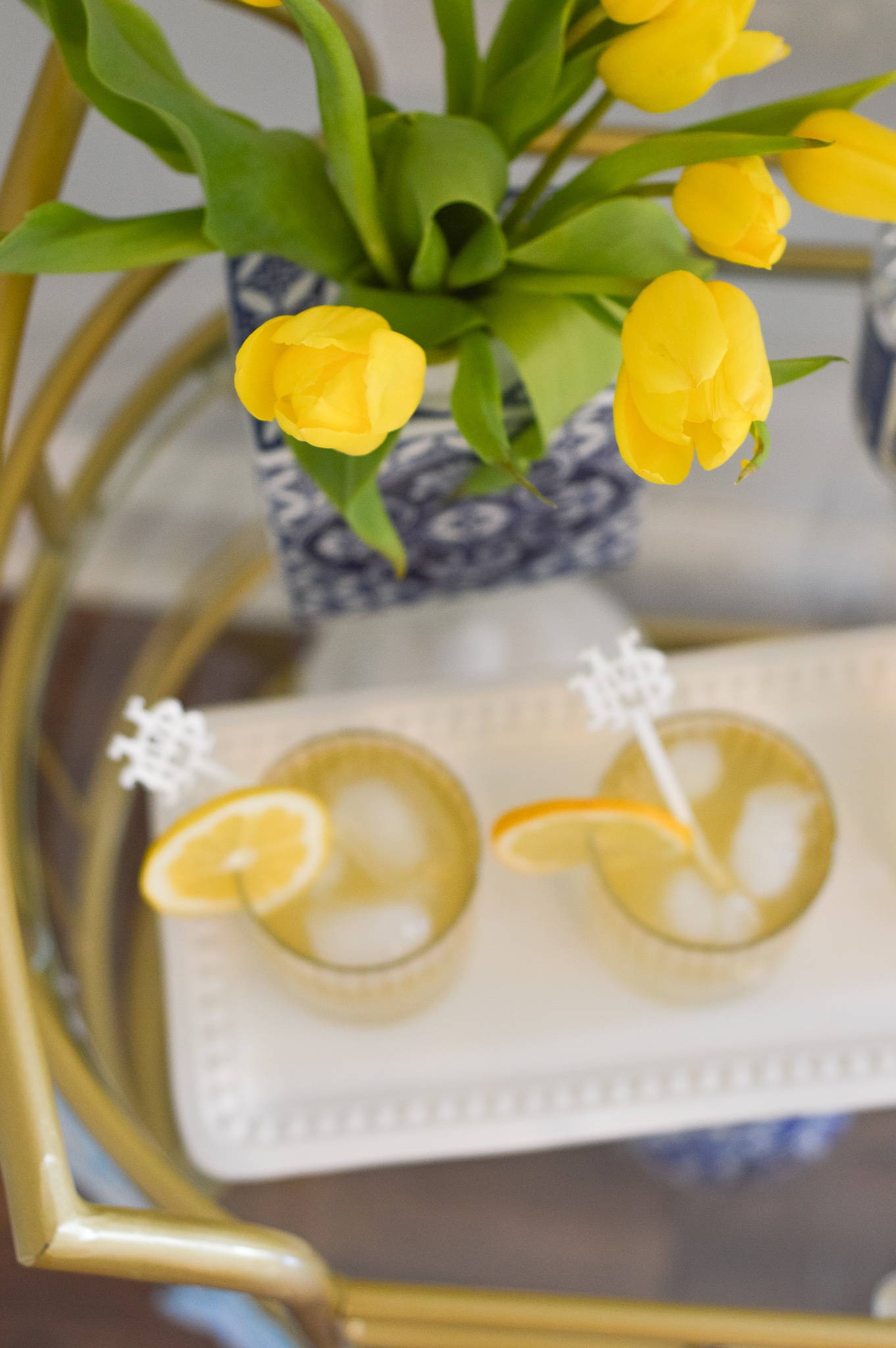 I think birthdays can be a big deal or an intimate gathering and still create an unforgettable time! When you start planning a birthday celebration two things to consider are, one, the person you are celebrating (are they the life of the party or prefer a night in with friends), and two, the weather (I wouldn't plan for a night on the town if it is supposed to rain so think about an indoor option).
I would use this styled birthday bar cart if we had plans for a night on the town with the birthday girl but wanted to gather at someone's house before to get the night started. You could also use this set up when hosting a birthday dinner. The cart can be used as a focal point or conversation area to entertain guests while you are finishing in the kitchen. This would give them an opportunity to help themselves to a drink and greet the guest of honor while doing so.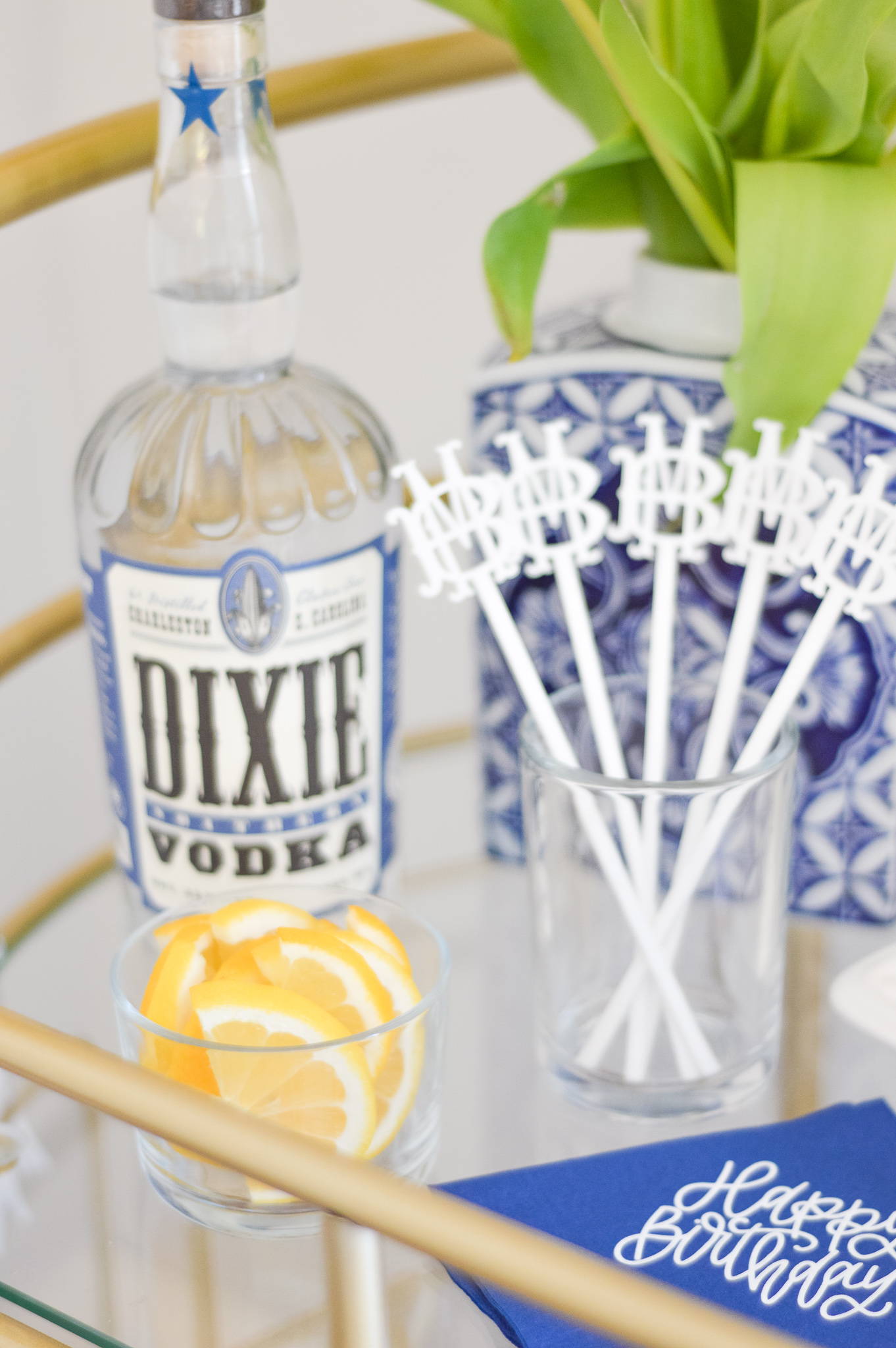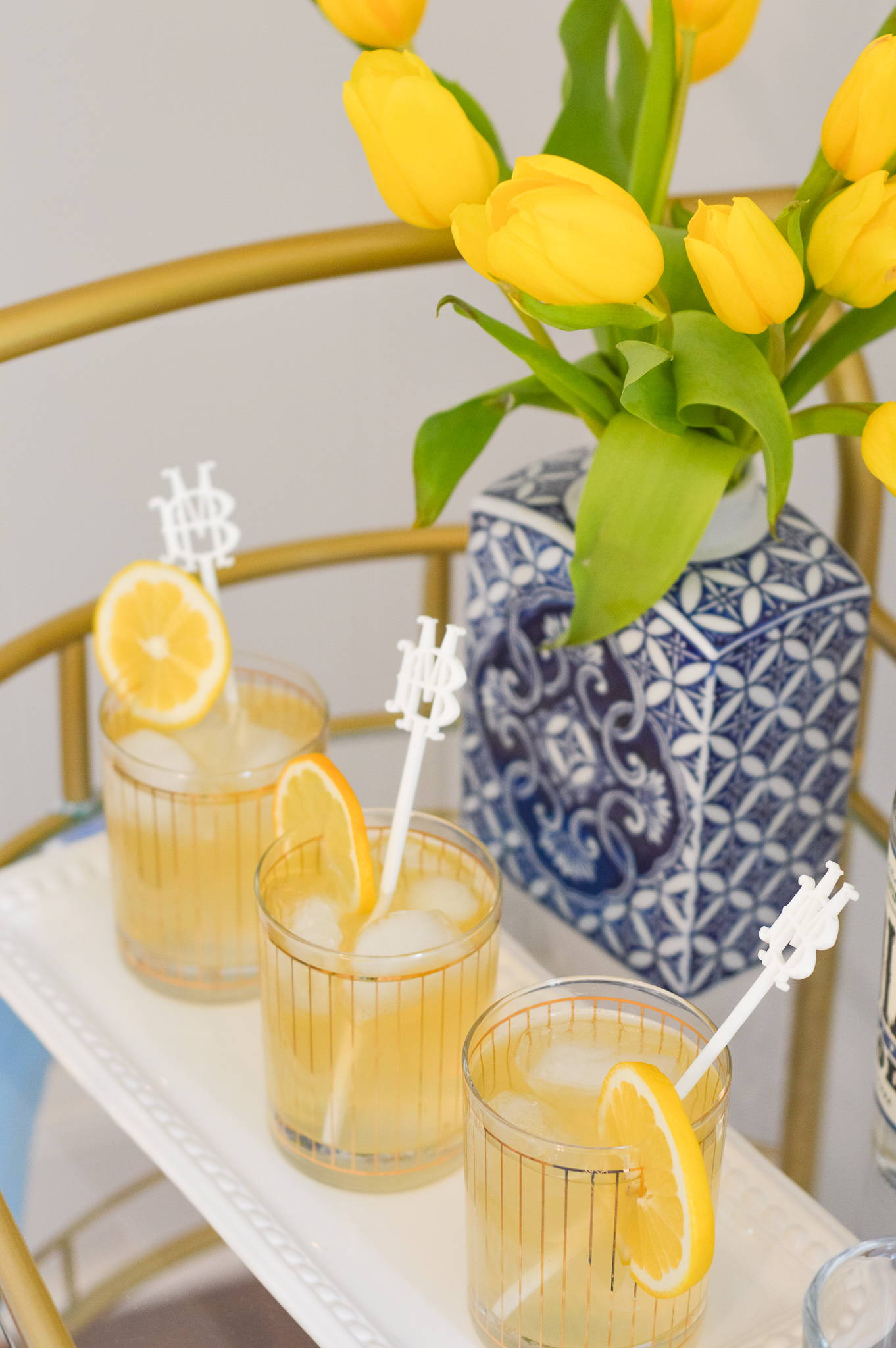 Now let's talk details. I am a detail-oriented person when it comes to hosting and gifting so the more personalized and unique the details the more in love I am. To make the birthday girl feel extra special I would use custom Double Monogram drink stirrers in white acrylic. I also added some royal blue ginger jar stir sticks to incorporate the color as well as the ginger jars on the sides of the banner. To keep the theme of blue going I decided on blue "Happy Birthday" cocktail napkins. You can shop all these goodies at the end of the blog and the best part, you can customize the colors to suit any theme!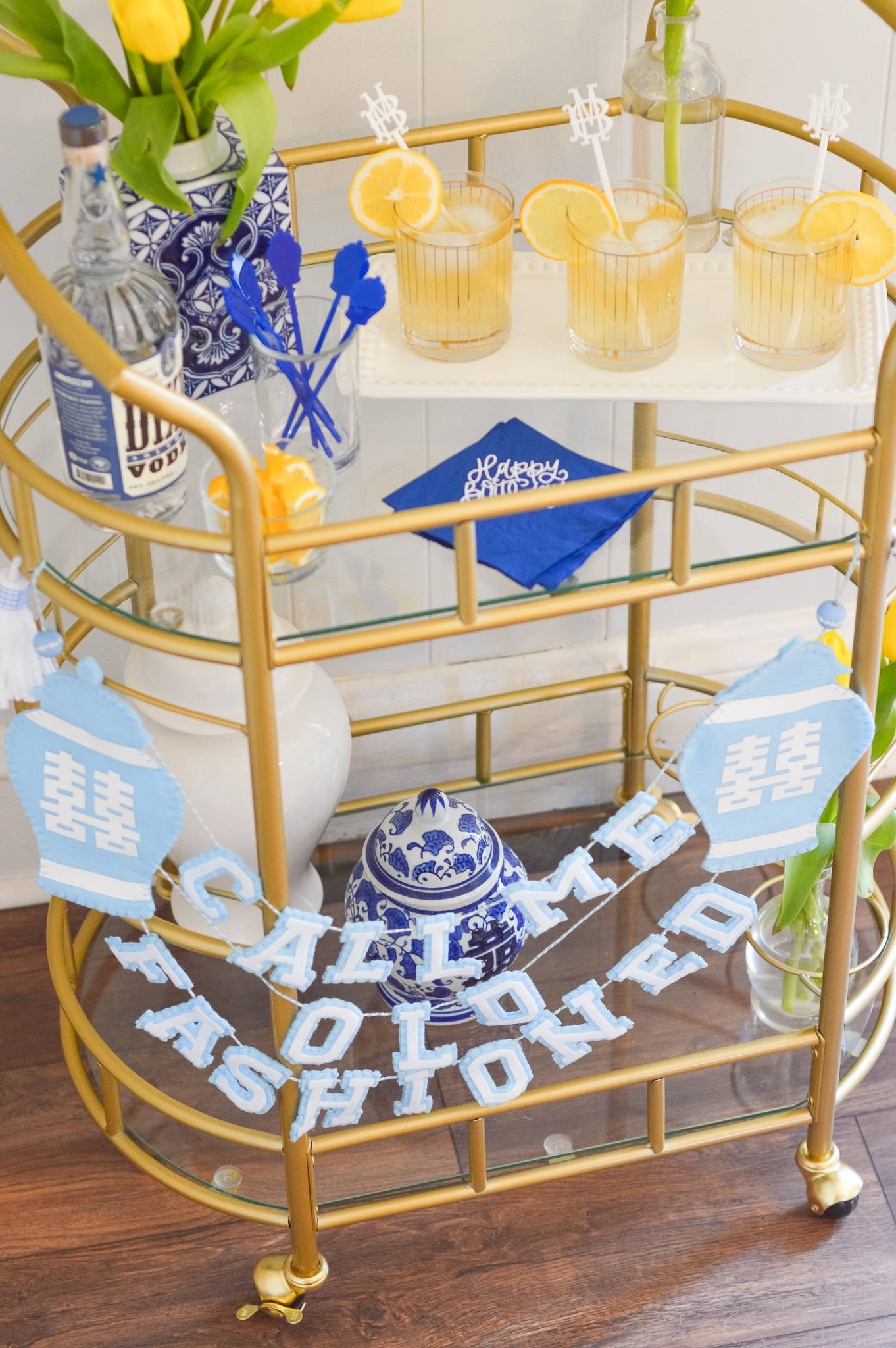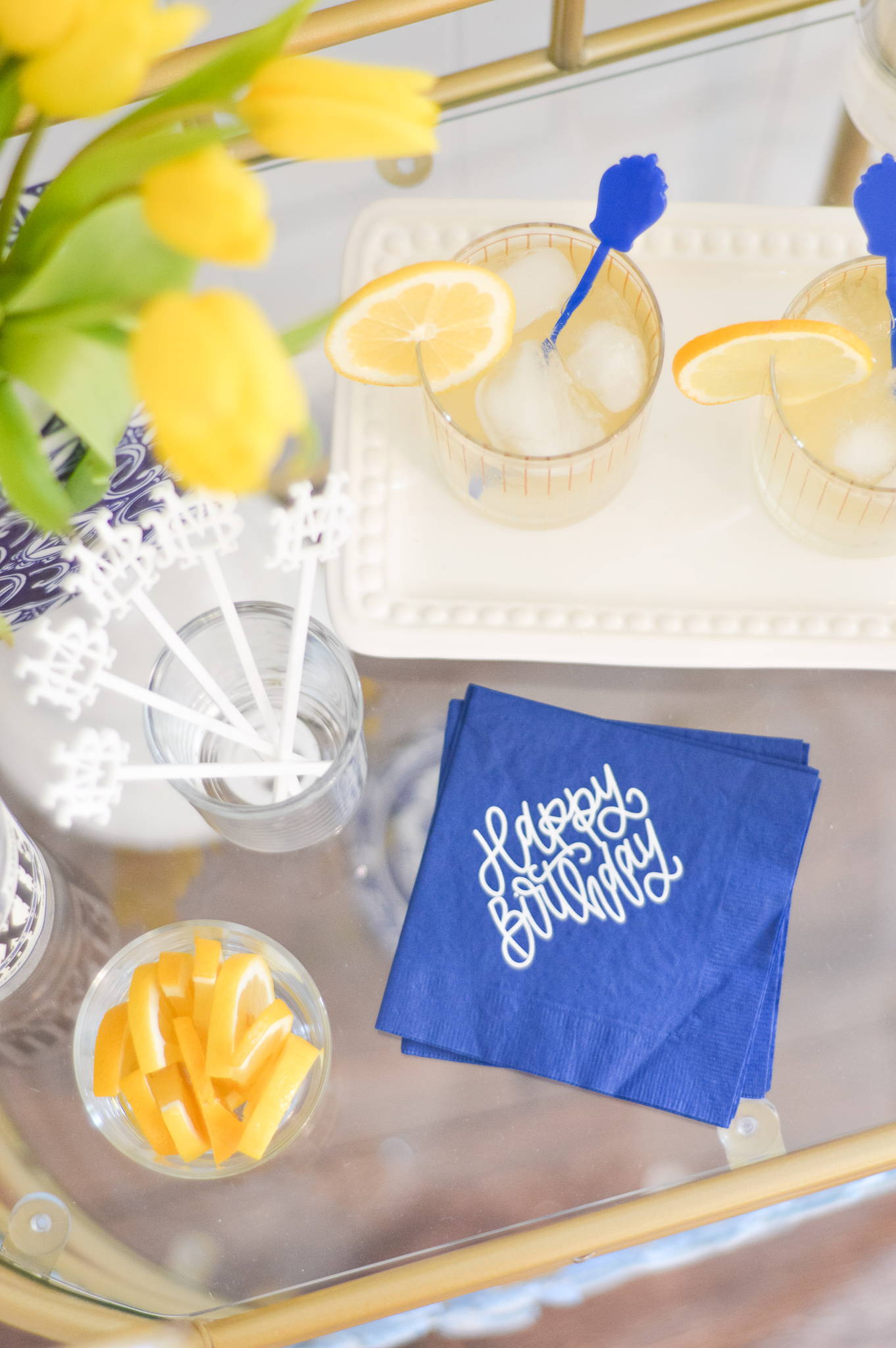 The final part for any bar cart is the drink! Since this birthday theme is full of sunshine and yellow tulips I created a drink called "Sunshine Dixie" and the recipe is super simple!
I am partial to homemade lemonade but if you are in a crunch for time there is nothing wrong with a premade option. To make my homemade lemonade I start with a gallon pitcher, 3 whole lemons, and 1.5 cups of sugar. First I cut the lemons in half and squeeze the juice into the pitcher. Next I add in the sugar and hot water, enough to cover the lemon juice and sugar. Mix the water, sugar, and juice together until the sugar has dissolved. Once it has dissolved finish filling the gallon pitcher with cold water and put it in the refrigerator to chill. I always buy 1-2 extra lemons to slice and put in the pitcher and/or use as a garnish on the drink rims.
To create the "Sunshine Dixie" I fill a glass half full with ice, then add lemonade until it covers the ice, top with 2 oz of Dixie Vodka and garnish with a lemon slice. See how easy! It is such a refreshing drink for the warmer months or even out by the water.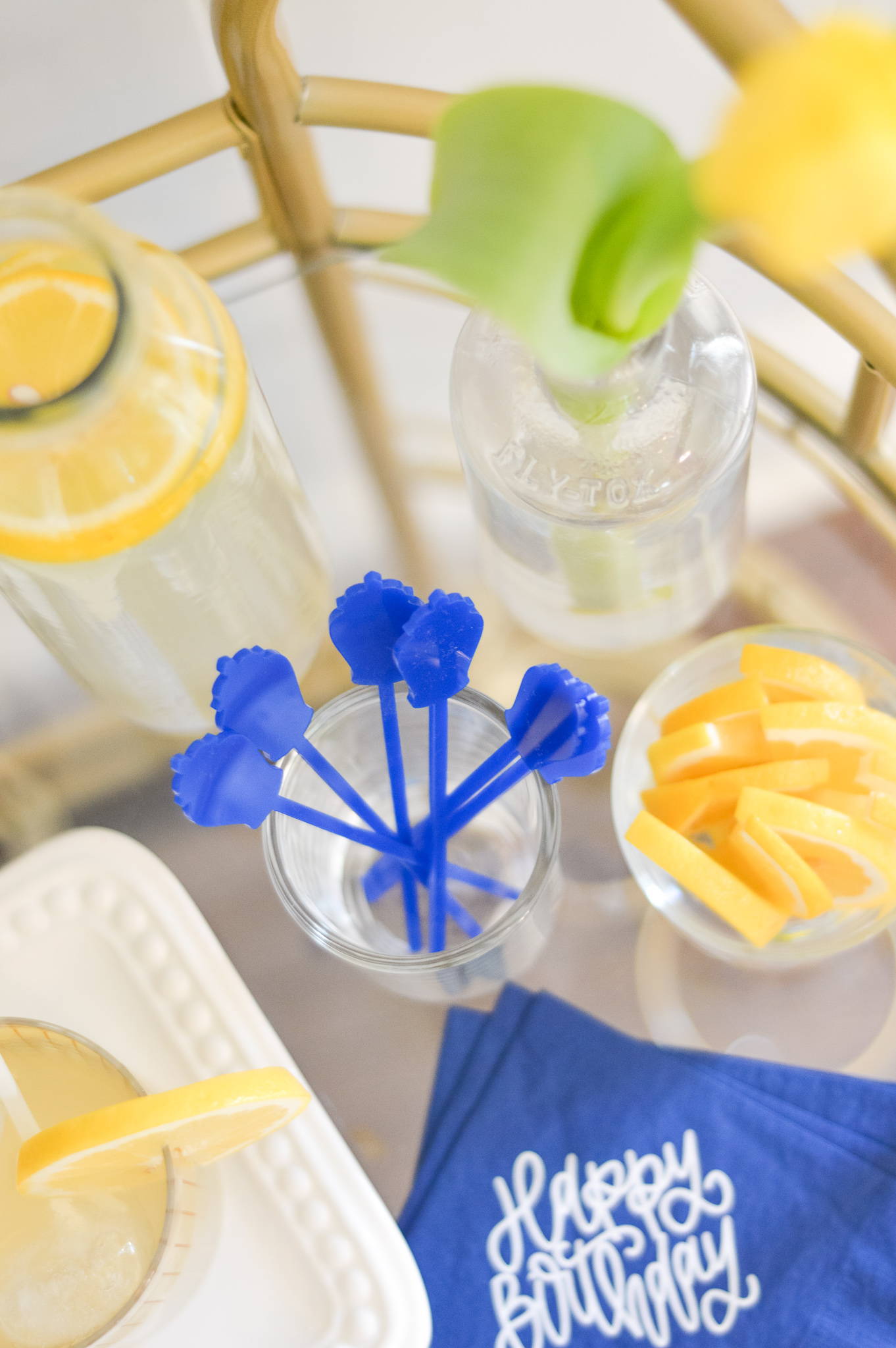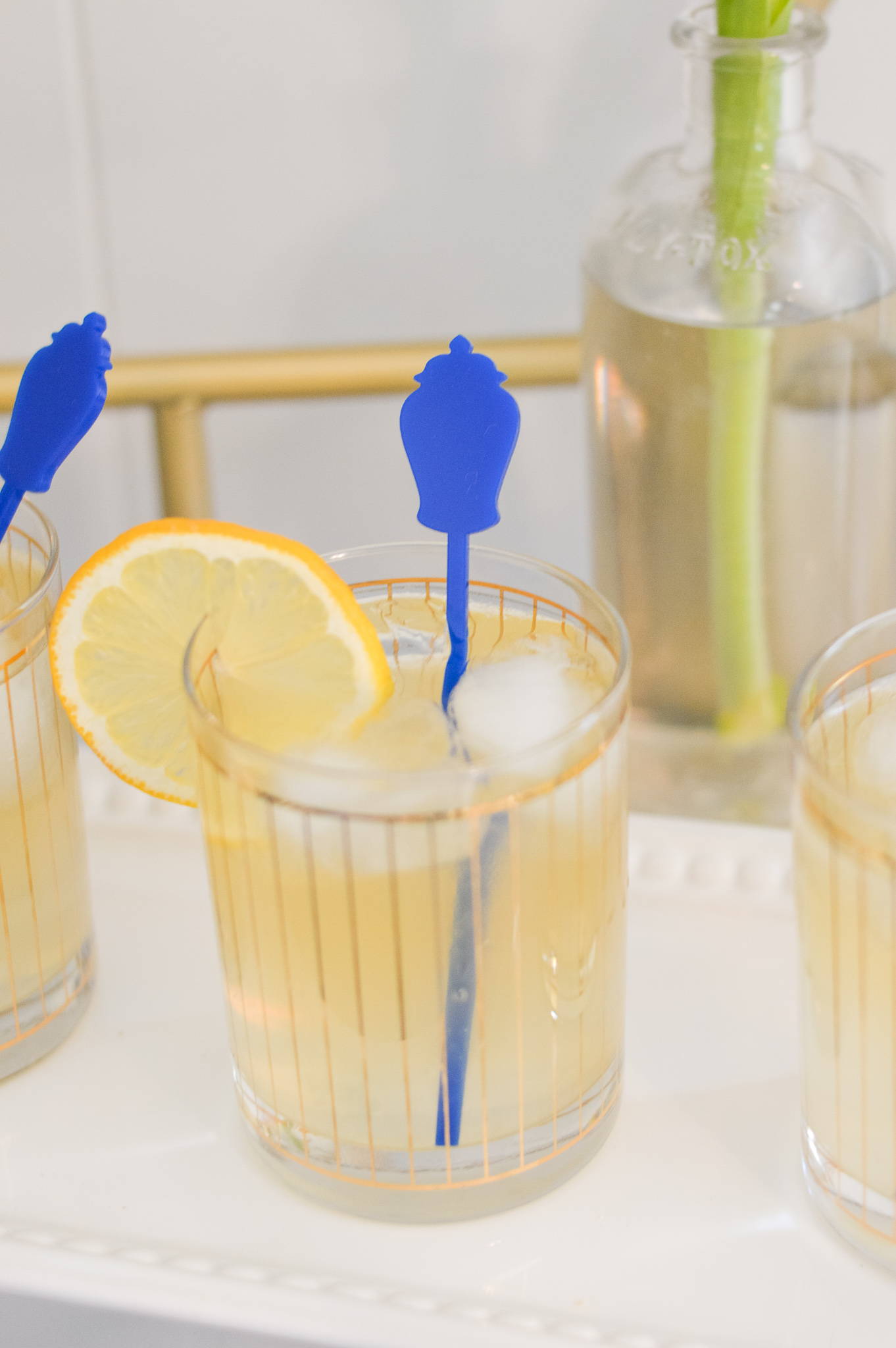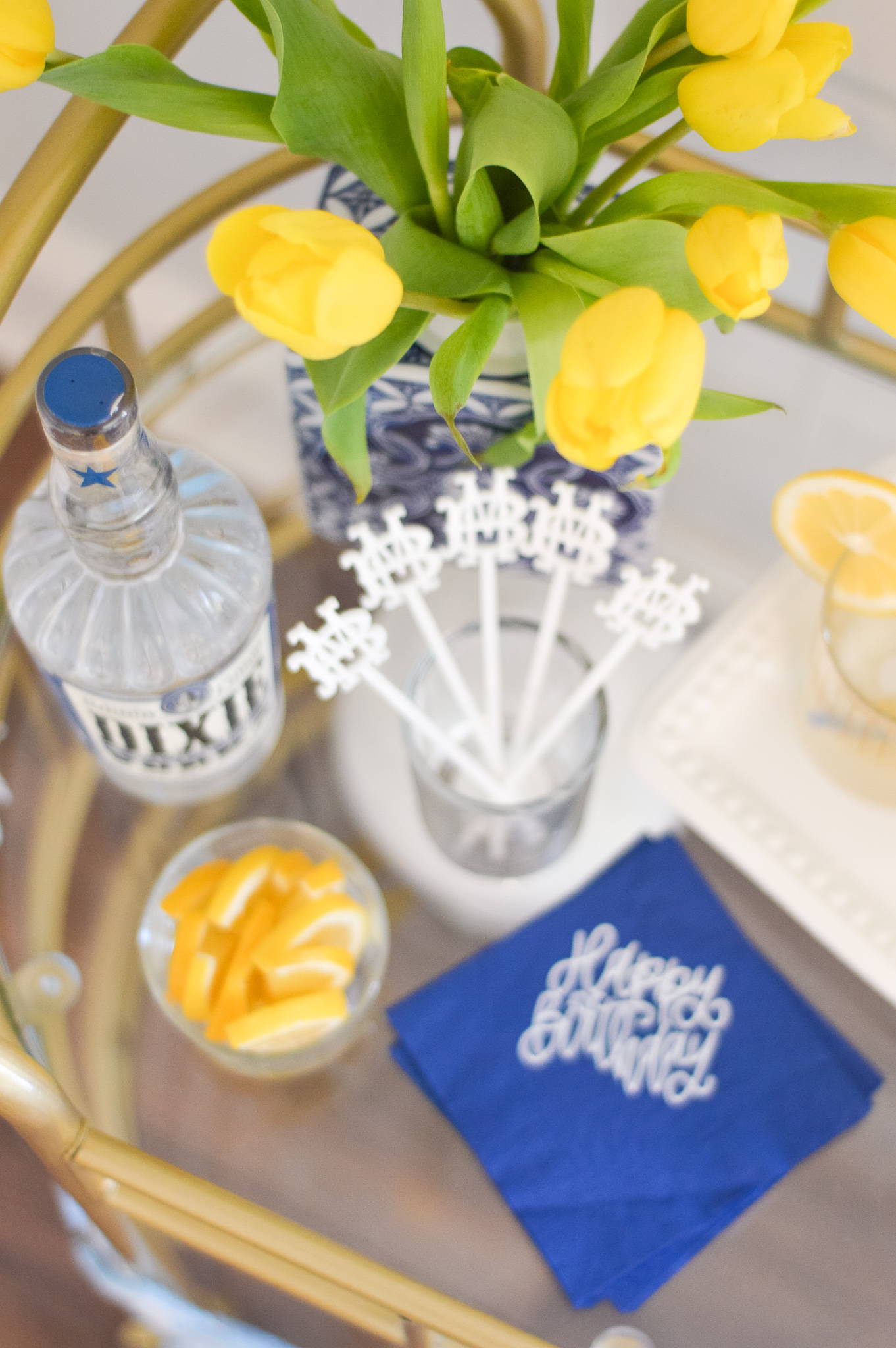 Looking to recreate this bar cart for a birthday party?
Shop the goodies below + you are sure to impress everyone at the party! The best part, each item is customizable to coordinate with any theme.